Soneva Resorts are famous all over the world! Thanks to being omnipresent all over Instagram and due to the fact that they have some of the most unique villas in the hotel industry.
After visiting the first Soneva Resort, Soneva Fushi in the Maldives and Soneva Kiri in Thailand, we finally got the chance to visit their third resort, Soneva Jani, as well.
The resort is famous for its spacious, eco-friendly water villas with water slides. But is the hype about Soneva Jani really worth it? The villa rates are not cheap at all but countless people from all around the world have a stay at this hotel on their bucket list. In this hotel review about Soneva Jani in the Maldives you will find out if it is the right choice for you or not.
Location & Transfer
First of all: Where exactly is Soneva Jani located? For us it is the most northern resort we ever visited in the Maldives, located in the Noonu atoll. Nevertheless, the transfer from the international airport Velana in Male is convenient  and very comfortable: After getting picked up by the Soneva Staff you will be escorted to the seaplane check in of Manta Air, where Soneva has a private sea plane chartered. A short car ride will transfer you to the Soneva Lounge until it's time to board. 
Note from March 2022: The Soneva Lounge is currently under construction – but guests can relax in the Manta Air Lounge instead.
After a 45 mins flight by sea plane, during which you'll enjoy spectacular views over different atolls and islands, you will directly land at Soneva Jani.
About Soneva Jani
Sustainability
Something which makes Soneva resorts stand out from other luxury properties is their incomparable sustainable spirit. The founder of Soneva, Sonu, always comes up with new ideas to make the resorts even more eco friendly and is constantly giving back to the local communities by working together with experts from all over the world.
This not only started recently as a result of the "sustainability trend" which got established over the last few years  but already since the opening of the first Soneva Resort, Soneva Fushi, 25 years ago. This makes them to a pioneer in this field and they were the first hotel group which combined sustainability with luxury.
Some of the main aspects which all Soneva Resorts have in common are: A recycling station on the island where as many materials will be transformed into something useful or reused as possible, creating their own energy and fresh drinking water right on the island, an extensive organic garden, cutting down plastic to almost zero, supporting the local communities in the Maldives by teaching them about sustainability and supporting them, … the list could go on forever.
The Island
The island is one of the longest ones in the Maldives. It is mainly covered by a mangrove forest and has a freshwater lake in the center. That's why the main island of Soneva Jani has a completely different appearance than most islands on the Maldives and only a small part of it is actually accessible. Due to its size of 8km (including the two jetties), each guest gets an electronic bicycle to move between Chapter One and Chapter Two. Additionally  a speed boat connects both parts of Soneva Jani.
The main areas of Soneva Jani are located over the water. The Gathering"is where you'll not only find restaurants and shops but also the library, diving center and much more. But of course you find beaches to relax on the island as well. The best one is located right next to Crab Shack and Down to Earth close to Chapter Two. Relax in one of the sunbeams or hang in a hammock while enjoying the sunset and a cool drink.
Snorkeling
Even though Soneva Jani is surrounded by a huge lagoon, you can not really start a snorkeling trip right from you villa at any time since the water is too shallow and the corals too far away. To make up for that, Soneva Jani offers a short ride on a traditional Dhoni to the reef drop which surrounds the island. The corals are in a good condition and you will see colorful fish in many forms and with a bit of luck also turtles.
The chances are pretty high that you might see dolphins duirng your stay. Several pods live around the island and they get especially active during sunrise and sunset when they hunt and feed. We attended a sunset dolphin cruise during our first evening to see them right next to our boat and it was an amazing experience! It is not guaranteed that guests might see them but the chances are pretty high!
Service
The Service at Soneva Jani clearly deserves its own part in this hotel review since it is outstanding! Every guest will get welcomed by their own "barefoot butler" who takes care of the check in and out just as of any requests and wishes you might have during your stay. If you wonder about the term "barefoot": All Soneva Resorts have a "No News. No Shoes." Philosophy. So right  after leaving the sea plane, your butler will collect your shoes in a linen bag and you will spend the rest of your stay barefoot which is such a great feeling of freedom!
Beside your private butler, any staff member you'll meet at Soneva Jani will be friendly, welcoming, helpful and surely have a smile on the face. The Soneva Spirit really flows through all team members!
Wellness
Wellbeing and fitness is a big part of the Soneva Concept! That's why you'll find two spa areas at Soneva Jani – one is located at the island and the second one over the water. The gym is very well equipped and can be rented for private training sessions.
Beside "classic treatments" like massages and beauty sessions, Soneva offers a great vanity of health or Ayurvedic treatments as well which will be practiced by a studied Ayurvedic doctor.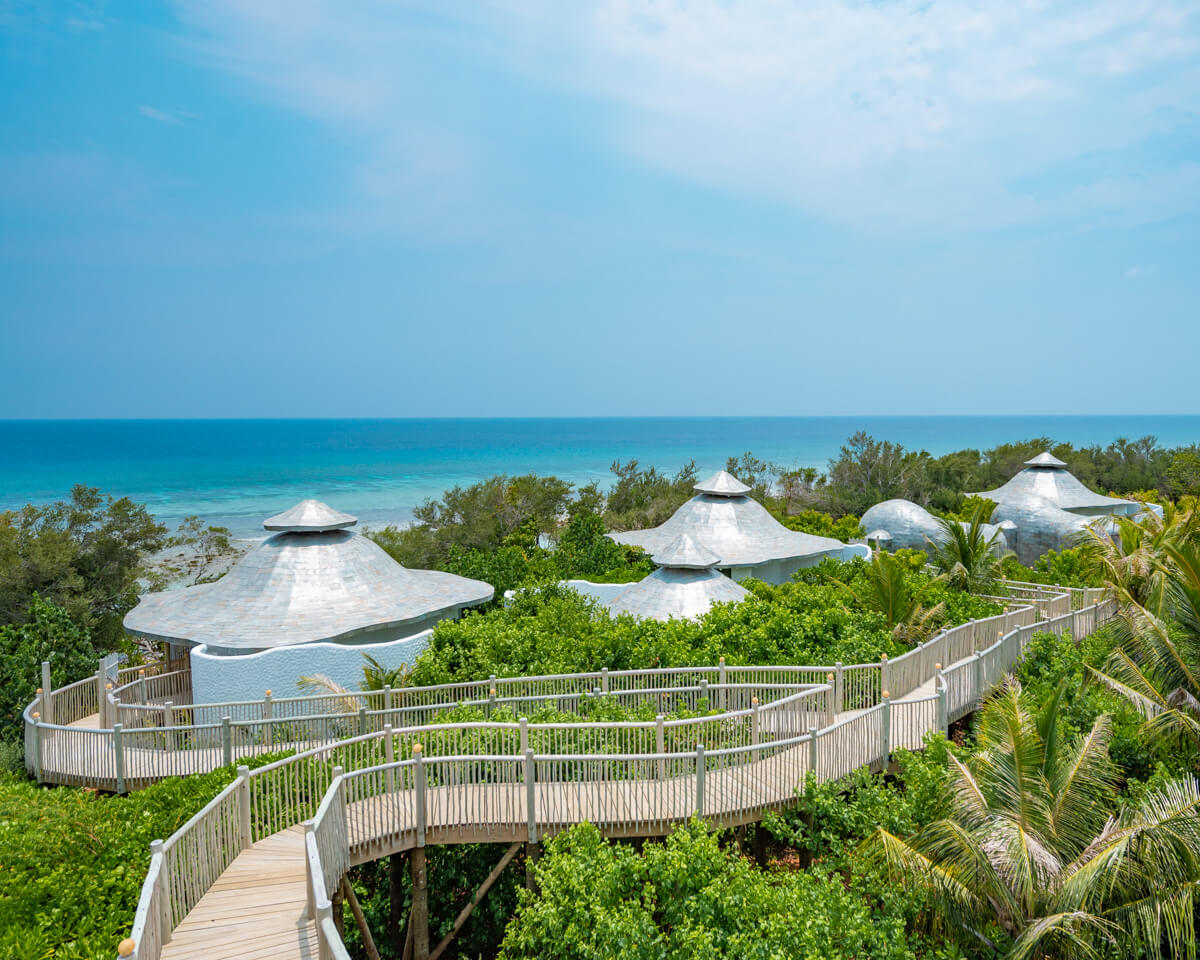 Villas
Soneva Jani is famous for having the majority of their villas over the water. Only a handful of multiple bedroom villas are located on land. Which is a big difference to Soneva Fushi, where they started with only Beach Villas but added a jetty with water villas recently.
The first villas are located in Chapter One while we were staying at Chapter Two – the brand new water villas which only opened up mid 2021.
Typically for Soneva, the water villas of Soneva Jani are constructed out of recycled wood in a way you won't find it in any other resort in the Maldives. The villas remind me of a playground for adults with lots of space, two levels and unique features like a removable roof, outdoor bathroom and of course your very own water slide which leads into the lagoon.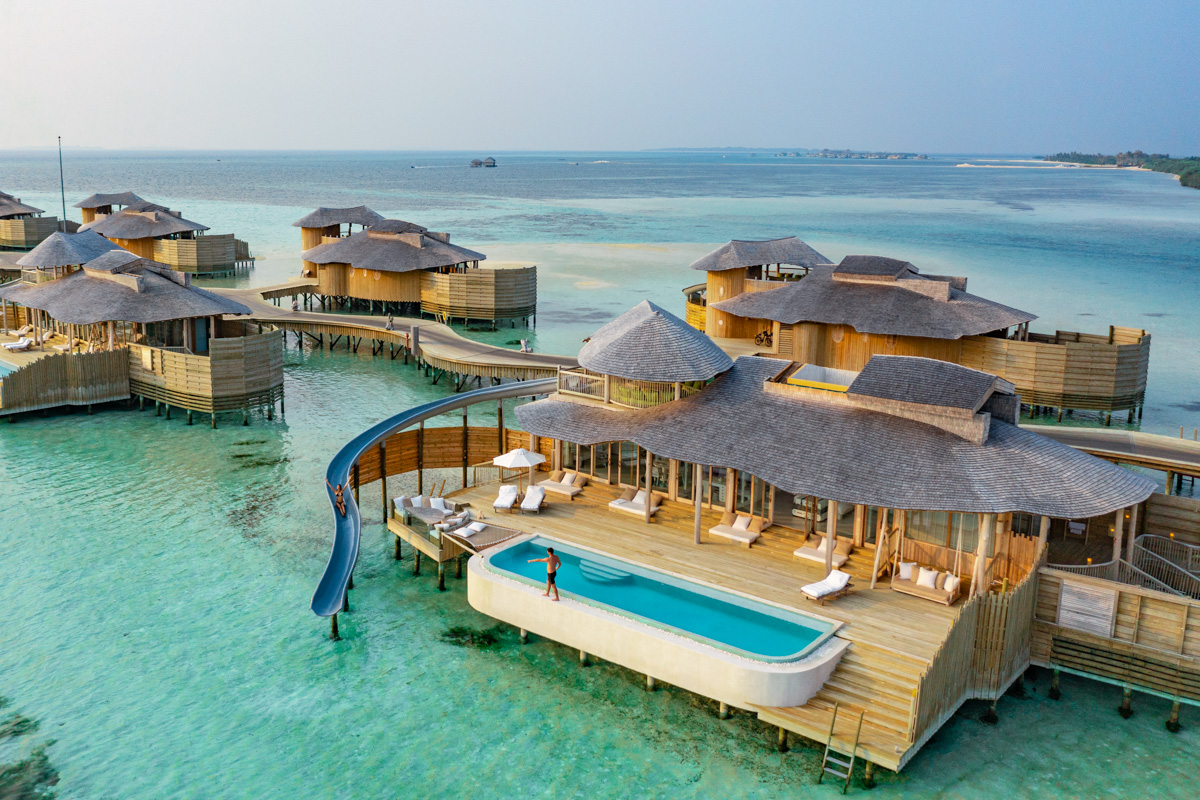 You enter the villa to your living and dining room which is connected to a private office, kitchen and the bedroom. The one bedroom villas have one king size bed but if you travel with kids, two sofas can be transformed into single beds as well. Right next to the bed is a button which opens the roof right over your bed! We loved to open it at night to sleep right under the stars, with a nice ocean breeze coming in.
Beside a clothing room to store your luggage and the spacious indoor bathroom, you will find a second bathroom outdoors which I really loved. It has an outdoor shower, bathtub and direct lagoon access.
The private terrace of the Soneva Jani water villas is enormous: It stretches over the complete size villa, with several relaxing areas, a huge infinity pool and of course the water slide. It can be reached via an indoor staircase which leads up to a sun deck and relaxing area from which you can slide down to the lagoon.
RESTAURANTS
The dining experience at Soneva Jani is exceptional and extremely delicious. They have amazing options for sea food and meat lovers but also for vegeterians and vegans.
Breakfast
Breakfast is served either at the Gathering – which is the main area of Chapter One over the water or at Down to Earth on the island. You'll find an amazing buffet with countless options in different rooms but also an incredible à la carte menu to order fresh dishes and drinks. I'm usually not the biggest breakfast fan but at Soneva Jani I never missed it a single time!
You can also order your breakfast straight to the villa to enjoy it on your private terrace over the lagoon.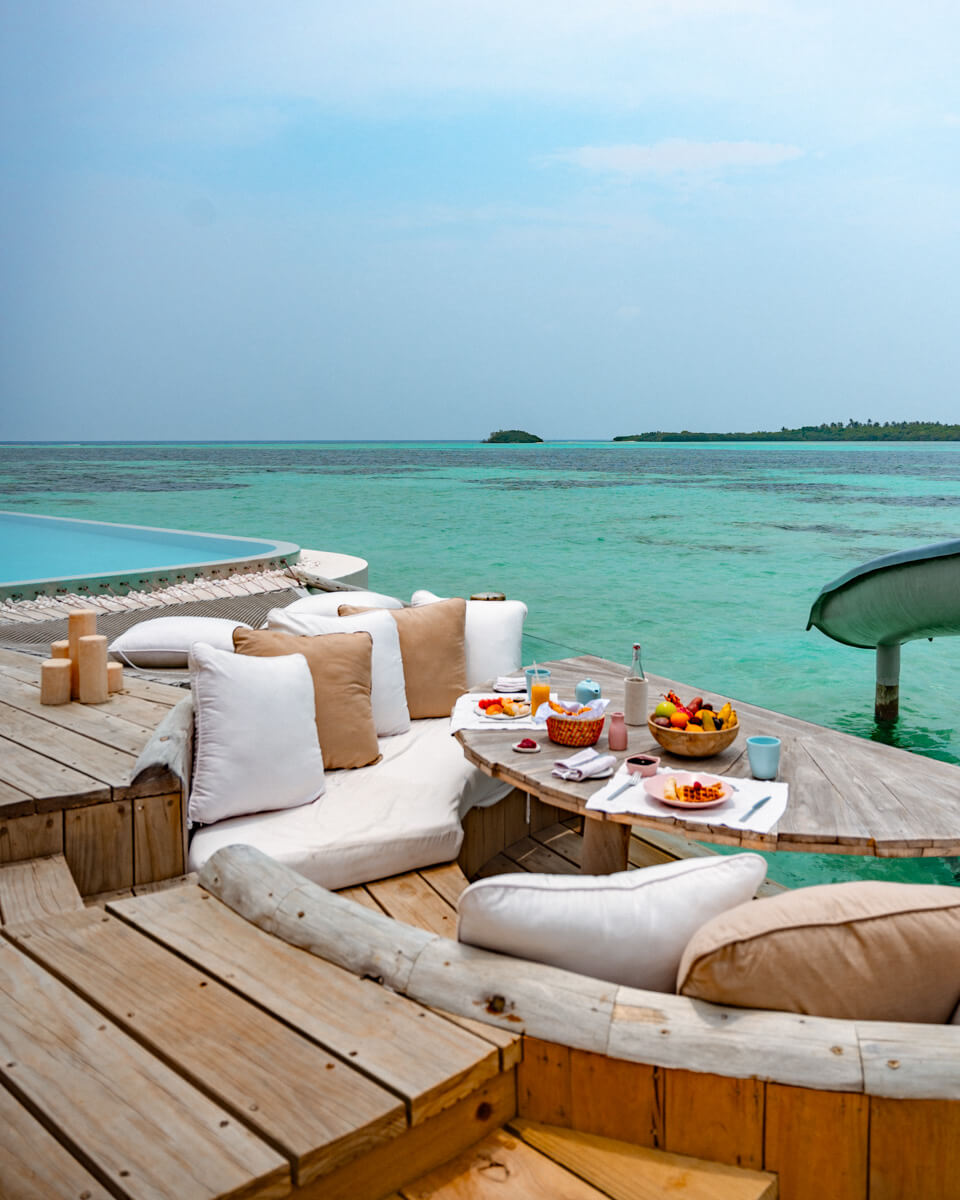 So Cold
Famous for all Soneva Resorts is the "So Cold" room where you can grab homemade ice cream, chocolates and other snacks 24/7. At Soneva Jani there are even two of them which can be visited whenever you are craving something sweet!
Countless Culinary Choices
Beside the main restaurants at the Gathering and Down to Earth, where you can enjoy breakfast, lunch or dinner, you have some great speciality restaurants which are definitely worth a visit: Overseas – a pescetarian restaurant by Michelin starred chef Mathias Dahlgren. The Beach BBQ Restaurant So Primitive (open for dinner) and Crab Shack which is a great restaurant for seafood lovers, right at the beach with very laidback vibes. I would recommend visiting Crab Shack during lunch and combine your visit with a fresh cocktails, to enjoy it in one of the hammocks. Lovers of plant based food definitely need to dine at the So Wild – the vegan restaurant located in the garden of Soneva.
Cinema Paraiso
One dining experience you simply can't miss during your stay at Soneva Jani is the visit of Cinema Paraiso. A huge screen is located over the water, right in front of the Japanese Restaurant. They show one kids friendly movie, followed by a second one for adults as a silent cinema with head phones a few days a week. Guests actually love this event so much that they plan to offer it daily in the future. The sushi and Japanese teriyaki chicken has been absolutely incredible and has been our favorite dinner during our stay.
RÉSUMÉ
So let's resume our stay and answer the question: Is Soneva Jani worth its hype? For me the answer is yes! Soneva Jani is not like any other luxury hotel in the Maldives or even worldwide. The combination  of sustainability with exclusivity, one of a kind service and amazing dining options is outstanding and truly makes it to one of the most unique resorts around the globe and a well deserved bucket list hotel.
Of course the price point is higher – but if you plan your visit outside of the main season (November – April) you might find a good deal to spoil yourself in one of the best resorts in the Maldives and worldwide.
Soneva Jani is part of my Hotel Collection with A Small World. So when you sign up via my Collection Link you will get extraordinary benefits like an upgrade and 100 USD stay credit plus you find the best available rate as well. The sign up is completely free and the best abut it: You can use the benefits for any other hotel bookings in the future and always get these VIP benefits for all your stays! 
Click here to sign up for my Hotel Collection and book your stay at Soneva Jani!
We had a sponsored stay at the Soneva Jani, which does not influence my opinion and review about the resort.