In this post I'll tell you step by step how to install & use my Lightroom Mobile & Desktop presets!
If you use my presets make sure to add the hashtag #voyagefoxpresets so I can check out your edits and for a chance to get featured on my Instagram channel 🙂
Lightroom Mobile
Step 1 – Download the preset to your phone
You will receive my mobile presets for Lightroom as a zipped file. But no worries! You can easily unzip them on your phone with a double tap or by using the App iZip. If you download the presets to your Laptop, you simply have to double click on the zip to unzip the folder with the DNG-Files (presets) !
On your phone the DNG-Files will be saved to your files program. If you downloaded the presets on your laptop just send them to your phone using Airdrop (for Apple) or Dropbox (for Android) or via any other method you prefer. In this case your DNG-Files will be saved to your camera roll / album. No worries if you only see a blank picture – they should look like this!
Step 2 – Import the DNG-Files to your Lightroom App
If you have downloaded the free Lightroom Mobile App head over to Albums and click the + sign to create a new Album called "Presets" and add the DNG-Files from either you Files or Camera Roll.
Step 3 – Extract the presets from the DNG-Files
The presets are now attached to the DNG-Files and to create a real preset you can quickly & easily you for ANY picture simply do the following: Open each DNG-File one by one and click the three dots in the upper right corner. There you will see "Create Preset" – here you have to type in the name of the preset again (f.e. VOYAGE Bali) and add a folder for my presets (f.e. Voyagefox)
In the checkboxes you choose which parts of the preset you wanna save! Most of my presets don't have settings for Tools, Optics and Geometry these parameters really vary for each photo so you can leave these boxes empty.
P.S. My VOYAGE Bliss Preset includes Tools settings – so make sure to tick the Tools Box when extracting the presets for this DNG-File!
You have to repeat this Step for each DNG-File but only one time and your preset will be saved forever 🙂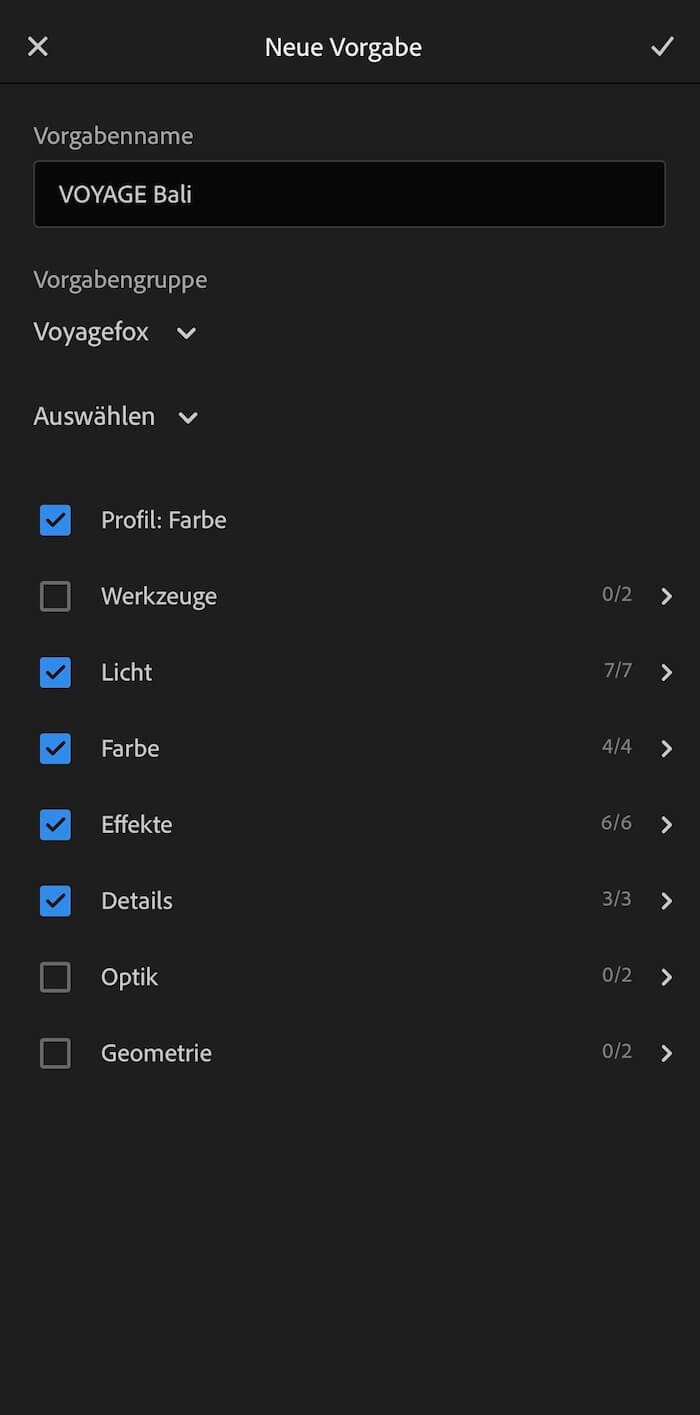 Step 4 – Happy Editing!
Your now ready to use my presets! YAY 🙂
Now whenever you upload a photo to your Lightroom Mobile App all you have to do is to go all the way right in the lower bar of the App where you will find Presets. Click on it and find back all your saved presets to start playing around and testing them!
P.S. Every photo is unique! So after applying a preset make sure to change into settings to regulate brightness, shadows, warmth, … a bit until your happy with your photo!
Desktop - Lightroom CC
Step 1 – Downloading the presets
First you have to download the presets as a zip-file. Double click on the file to unzip it and get the xmp-files (Lightroom Desktop presets)
Step 2 – Import the xmp-files to Lightroom CC
If you have opened the desktop version of Lightroom change into Develop-Mode and find the presets menu on the left side. Click the little + next to it and find "import presets".
A window will open up  to choose the xmp-files of the presets you want to add (you can add all the files at the same time). Now just click import and all the presets will be in your preset menu.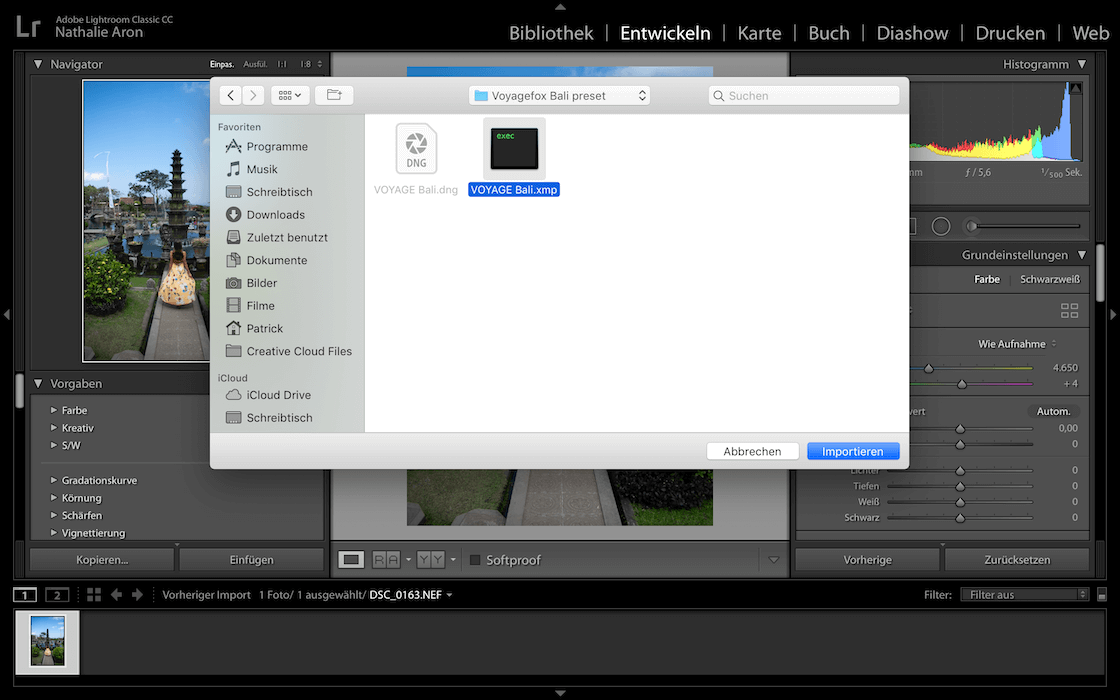 Step 3 – Happy Editing
Now you can find my presets in the preset menu whenever you want to edit a picture and simply click through them to check out the different edits!
As already mentioned in Step 3 of the Mobile presets: Every photo is unique so make sure to play around with parameters light brightness, shadows, warmth, … to make the picture look exactly like you want it!
AFTER VOYAGE MALDIVES SUNSET PRESET