After visiting South Africa, Cape Town went straight to the top of our list with the most beautiful cities we've ever seen! Thanks to its special location next to the Table Mountain and the coast of the wild Atlantic Ocea, it exudes a very special charm and offers numerous opportunities for activities. In this post, I'll tell you the 10 best things to do in Cape Town, including insider tips.
The 10 best things to do in Cape Town with insider tips
1. The Table Mountain
Of course – the most famous sight in the city has to be part of my Top 10 of the best things to do in Cape Town. The flattened peak, to which Table Mountain owes its name, can be reached either comfortably by cable car or after a hike. Unique views over Cape Town and the Atlantic Ocean as well as a unique vegetation await you. On the → official website of Table Mountain, you can check daily whether the cable car is open and reserve your tickets online! During stormy weather conditions, which aren't uncommon in Cape Town, the cable car is not in operation for safety reasons.
Cost for the cable car:
8am – 1pm: 395 Rand (21 Euro) round trip / 220 Rand (12 Euro) one way
1pm – End: 340 Rand (18 Euro) return / 220 Rand (12 Euro) one way
2. Cape Point Nature Reserve
This popular destination is a beautiful, rocky headland on the Atlantic coast of South Africa's Cape Peninsula. The drive to the nature reserve is already incredibly beautiful and takes you past the dreamy Fish Hoek, great beaches and an impressive coastline.
In the park itself, you can expect idyllic walks, empty beaches, breathtaking views and wild animals such as sea lions and baboons, as well as the Cape of Good Hope and the famous new Cape Point lighthouse. If you want to explore the nature reserve thoroughly, you should plan at least half a day and better a whole day. But even in good weather you should have a jacket in your luggage: The original name of the Cape of Good Hope was "Cape of Storms" and during a visit you will surely quickly realize where the name comes from! Before the Suez Canal was opened in 1869, all ships sailing from Europe to Asia had to sail around the African continent. Because of the windy weather, the Cape was a feared area among sailors. Many ships capsized in the area at that time.
Entrance fee:
360 Rand (19.50 Euro) for adults.
3. Boulders Beach
Boulders Beach can be combined especially well in one day with the Cape Point Nature Reserve. This is because this popular attraction is on the way from Cape Town to the nature reserve.
Named after the round granite boulders that are found on this soft, white sand beach, this beach is protected from wind and large waves, making it an ideal place for swimming. Since a colony of African penguins settled here in 1982, this beach has become a popular tourist destination to see these cute animals up close.
Boulders Beach is also part of Table Mountain National Park, which means that an entrance fee of 152 Rand (8 Euro) has to be paid for a visit. However, the ticket is valid for both parts of the beach: The one which is only accessible on a jetty to watch hundreds of the penguins and the actual Boulders Beach, a few meters further, which is ideal for swimming, but where fewer penguins can be found.
Insider tip: For the possibility to take pictures with the animals, you have the best chances at Middle Beach (which is located between Boulders Beach & the observation point). The access is a bit hidden, as you have to walk between two big granite boulders at the left end of Boulders Beach. It's best to come at low tide for this, as at high tide you'll have to wade through waist-deep water to reach Middle Beach. The exact times for low and high tide, change throughout the year, but you can read them → here.
Even though the penguins at Boulders Beach are used to humans, you should always keep in mind that they are wild animals, which do not want to be touched and which you should only approach slowly and not too close, so as not to scare them. If a penguin feels threatened, it may bite you.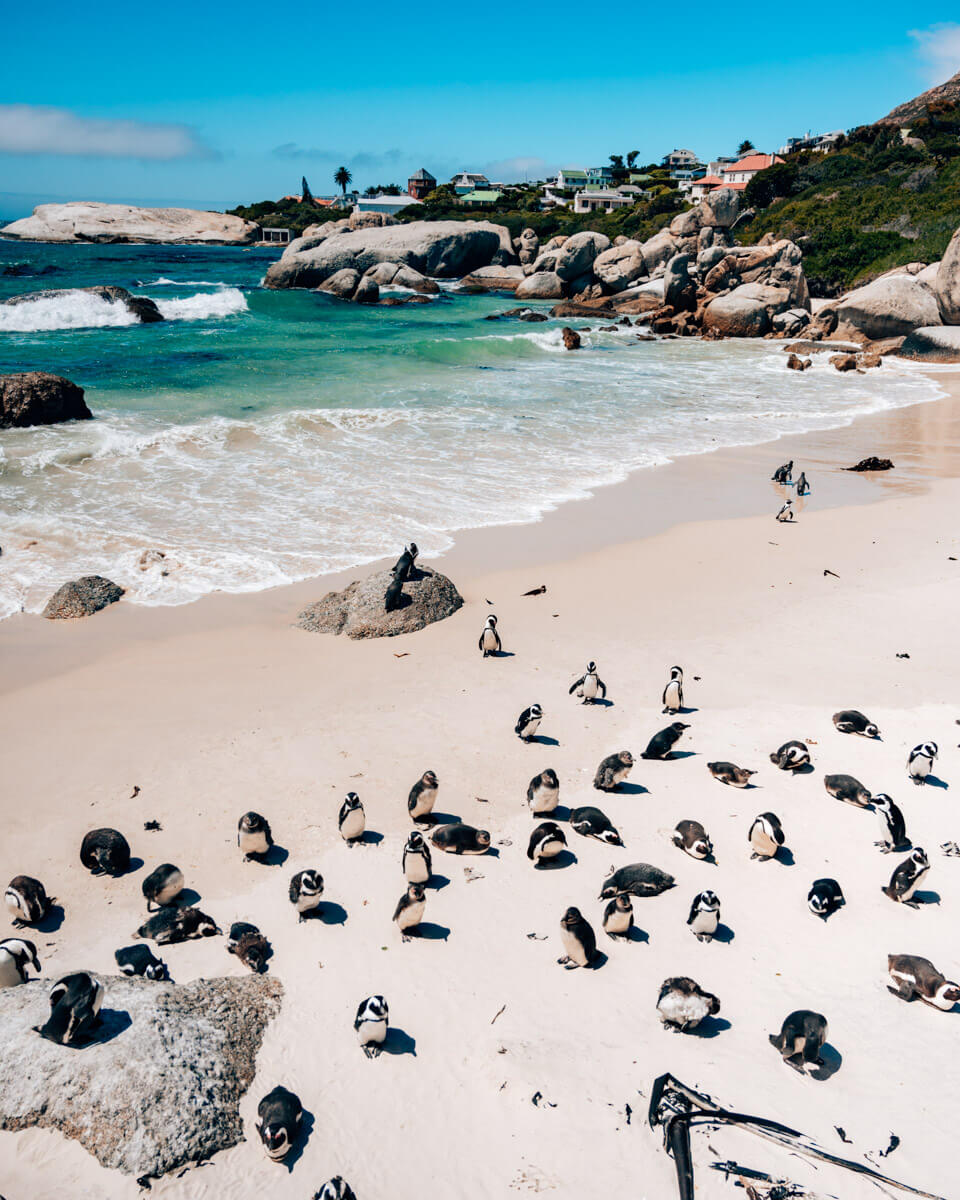 4. Visit more of the great beaches in and around Cape Town
As a coastal city, beaches are undoubtedly one of the top 10 things to do in Cape Town!
Especially beautiful are Camps Bay Beach, with the dramatic panorama of Table Mountain in the background, and Clifton 4th Beach, which is a bay well protected from wind and high waves, making it ideal for swimming.
5. Kirstenbosch National Botanical Garden
Located on the eastern slopes of Cape Town's Table Mountain, Kirstenbosch Botanical Gardens is home to some 7,000 species of plants, as well as a large greenhouse displaying plants from various regions. Hike up Skeleton Gorge, explore the many trails, and enjoy panoramic views from the Boomslang Aerial Walkway. You should plan an entire day for the botanical garden.
Entrance fee: 200 Rand (11 Euro)
6. Bo-Kaap
Bo-Kaap is probably the most colorful area in Cape Town and belongs to a popular sight because of the photogenic motifs. Already when approaching Cape Town, the neighborhood catches the eye! The houses, which were painted in various colors, are with Table Mountain in the background a great photo motif.
In and around Bo-Kaap are also many great sights such as Signal Hill (more on that later) or the Victoria & Alfred Waterfront.
7. Victoria & Alfred Waterfront & Helicopter Flight
The Waterfront, which attracts more than 23 million visitors annually, is still technically a working harbor, but is increasingly perceived as a shopping center. The large V&A Waterfront is divided into five shopping districts: Victoria Wharf, The Watershed, Alfred Mall and Pierhead, Clock Tower and Breakwater Point. With more than 450 stores, restaurants and bars, there is something for everyone! But there are also other activities like a Ferris wheel, a golf course or the aquarium.
If you're a fan of markets, be sure to pay a visit to the Oranjezicht Farmers Market near the V&A Waterfront. It's open three times each week:
Wednesdays 5pm – 9pm
Saturdays 8:15 a.m. – 2 p.m.
Sundays 9am – 2pm
However, we visited the Waterfront primarily for another reason: the spectacular panoramic helicopter flights over Cape Town start from here. You can choose between different routes, which are shorter or longer and are also more expensive or cheaper. I will never forget the view from the air over the city, the blue Atlantic Ocean as well as the impressive mountain formations! We booked our flight with NAC Helicopters and were super happy!
8. Robben Island
About 11 kilometers from the coast of Cape Town lies Robben Island. The island was the prison where Nelson Mandela, the first democratically elected president of South Africa, was imprisoned as an anti-apartheid activist. Mandela spent a total of 18 years, his total of 27 years in prison, on Robben Island. In 1996, the prison was bullet and the island became a symbol of democracy and the triumph of freedom over the repression that colored people in South Africa had to suffer until 1994. Today Robben Island is a UNESCO World Heritage Site and the Robben Island Museum is open to visitors. The island can only be observed during a tour, which can be booked → online here. I recommend you do this already a few days before your desired date, as the tours are booked up quickly.
Entrance fee: 600 Rand (32 Euro) for adults
9. The Lions Head
Probably the best known and most iconic hill in Cape Town is Lions Head, which dominates the cityscape with its sugar loaf shape. Especially at sunset, Lions Head is a great hike, which offers breathtaking views. The climb starts as a walk, but quickly turns into climbing. As you spiral up the hill, views can be enjoyed in all directions: Table Mountain, Camps Bay, the Atlantic Ocean and the city center.
For the ascent and descent of the total 5km you should plan around 2-3 hours. For me, the most beautiful place to watch the sunset is not at the summit, but on the plateau just before it. Here you have enough space to find the most beautiful spot for yourself, while it quickly becomes crowded at the summit and you save the last and steepest part of the hike.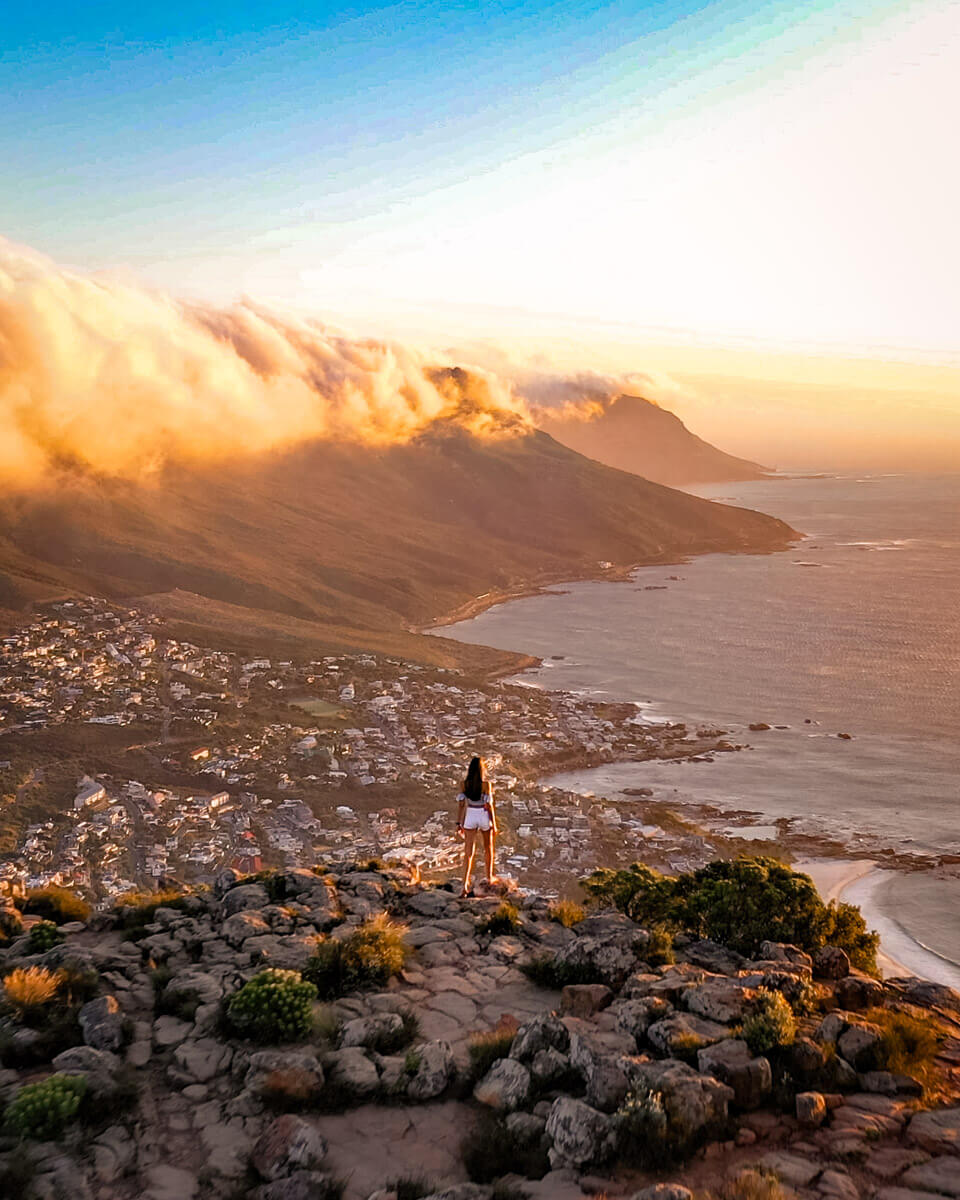 10. More sunset hikes:
The many hills and mountains of Table Mountain offer not only a great backdrop but also numerous hiking opportunities in Cape Town, which are undoubtedly among the top 10 sights in Cape Town. Especially in the late afternoon and at sunset, these offer breathtaking views over the city.
These are next to Lions Head my favorites, which you should not miss during your visit to Cape Town:
Signal Hill View Point
Very close to Lions Head is the Signal Hill View Point. It's flatter than the neighboring hill, but it has one big advantage: YOU can reach the viewpoint completely by car or Uber thanks to a road! It is therefore the perfect choice for a relaxed picnic at sunset and also offers a great view of Lions Head.
"The Rock"
Less known, but also beautiful at sunset is "The Rock" (under this name the spot can also be found on Google Maps). It is especially popular with locals and offers a similar view as Lions Head.
For the way back you should keep in mind that it gets dark quickly after sunset and there is no path lighting. A headlamp is therefore very helpful!
View from Signal Hill to Lions Head
These were my top 10 sights in Cape Town that you should not miss. If you have more time, there is so much more to explore in the area, like the Cape Winelands with the wine famous town of Stellenbosch, whale watching in Hermanus, the world famous Garden Route or a safari!
Map with the best things to do in Cape Town