Where future meets nature and countless activities: The city state Singapore is definitely a unique travel destination in South-East Asia. Either as a stop during a longer layover or as your final destination. Even after our second visit we were still surprised by how much the city has to offer and definitely have many more places on our list for our next visit!
This Singapore itinerary includes all the best places in Singapore, which you simply can not miss during your trip, including secret spots and restaurant tips!
Save this post on Pinterest to find it back later!
My Singapore Itinerary – All highlights you need to see
First things first: What are the current travel restrictions in Singapore?
Since the 1st of April 2022, travelers no longer need to quarantine after arriving in Singapore and no longer need to do daily tests during their stay, as it has been the case before April!
Now fully vaccinated travelers (at least two doses) only need to show a proof of their vaccination status to enter Singapore. Even a negative PCR test result is no longer needed since April 26th. Non vaccinated travelers are not allowed to enter the country at this point – only with a certificate of exemption which has to be applied for by the authorities.
This makes traveling to Singapore a lot easier & relaxed! Another plus side: It is no longer required to wear masks outdoors but only inside buildings.
Before traveling to Singapore you also have to download the TraceTogether App to validate your vaccination status and check into public places via QR-Codes during your stay in the city state.
Where to stay in Singapore?
Singapore has a larger number of amazing hotels all around the city. We stayed at the Parkroyal Collection Pickering and absolutely loved it thanks to its great location in the center. This means that many attractions and spots can be reached by walking or short taxi rides. Another plus is the amazing pool with a view and the lush design with thousands of plants which turns the Parkroyal Collection Pickering into a green oasis in the middle of the city.
Singapore Itinerary Day 1:
Katong
Art & Science Museum
Rooftop Bar
Katong
One of the most photogenic & colorful neighborhoods in Singapore is Katong. This vivid area of the city state got famous thanks to its historic Peranakan houses from the early 20th century. You will find the most beautiful ones at the 9 Koon Seng Road – they make such a beautiful photo location!
Another good reason to visit Katong are the little shops, cafes and restaurants which can be found all around the neighborhood. 
Restaurant Tip ($ of $$$): If you would like to try a typically Singaporean dish, you have to visit the Michelin awarded 328 Katong Laksa which is famous among locals as well! Laksa is a spicy noodle soup with a coconut milk broth with shrimps and fish. It is ideal for a lunch snack and is affordable as well!
Marina Bay – Art & Science Museum
There are many reasons to visit the Marina Bay Area in Singapore! It is an excellent area to stroll around, go shopping and see Merlion statue – Singapore's official mascot! One of the most iconic shops is the spherical Apple Store in the middle of the Marina Bay – definitely take a look at its exceptional futuristic design.
The weather in Singapore can change super quick so if you're looking for an indoor activity during a rain shower, you should check out the Art & Science Museum where art, science, culture and technology come together. The Future World is an interactive exhibition for young & old with a photo highlight as well: The Crystal Universe – An installation with 170.000 LED's in a mirrored cabinet which look like a million stars with changing colors! A ticket for the Future World exhibition costs 21,-S$ / 14,40€ per adult.
Rooftop Bar
Bar Tip ($$ of $$$): For some pre dinner cocktails you simply have to visit the Smoke & Mirrors Rooftop Bar which is located on top of the National Gallery. It has an amazing terrace overlooking the skyline and the world famous Marina Bay Sands Hotel. I would recommend to go shortly before sunset to experience the changing colors of the sky and watching how the city lights get lit up.
You don't have to pay an entrance fee for the rooftop bar but a reservation is highly recommended for the evening – especially on weekends. The Smoke & Mirrors signature cocktails are all inspired by art pieces inside of the National Gallery and cost around 15,-€.
Restaurant Tip ($ from $$$): Not far from our hotel, the Parkroyal Collection Pickering, we found a little restaurant inside of a mall which serves the BEST noodle soups! It's called Tongue Tip Lanzhou Beef Noodles. Make sure to try their signature beef noodle soup for just 9,90 S$ /6,70€ per bowl at least once during your trip!
Singapore Itinerary Day 2:
Pulau Ubin
Mount Faber Peak
Pulau Ubin
During this second trip to Singapore we discovered so many new faces of the city state which we totally missed the first time! A big surprise has been our visit of Pulau Ubin – an island located at the north east coast of Singapore. It is just a short ferry ride away from the mainland. After a short 10 mins boat ride from the Changi ferry station, you will already reach the jetty of Pulau Ubin!
Good to know: The ferry service doesn't operate at specific times since the driver waits until the boat is full before he departs. A fee of 4,-S$ / 2,70€ per person and direction has to be paid in cash!
Pulau Ubin is a natural & green getaway which is ideal for hiking, biking, camping, fishing and kayaking – and all this so close to the bustling metropole! On the island you'll find a small village at the ferry dock where you'll find some shops and renting points for bikes and kayaks. We decided for a kayak tour around the island and through the surrounding mangrove forests! I would highly recommend to do the tour with a guide since the current can get quite strong at specific points and you don't want to get lost! We booked the tour with Adventures by Asian Detours and loved it! Our guide showed us all the best spots, gave us some information about the history and nature of Pulau Ubin and we even had a little walk during a stop on the island!
→ Here you find the link to our Kayak Tour!
Good to know: Make sure to bring a hat and sun blocker if you're planning to go kayaking! The water reflects the sunlight strongly and you don't want to get completely burnt during your vacation! Also make sure to bring some reusable water bottles – you can refill them with drinking water at the office of Adventures by Asian Detours.
We absolutely loved this trip to Pulau Ubin but have to admit that we have been sad to see the amount of trash at some spots which got washed to the shore or stuck in the mangrove forests… We tried to pick up some bottles and fishing ropes while kayaking, but the amount and sizes have simply been to big to collect it all.
Mount Faber Peak
After returning from Pulau Ubin we relaxed a bit at the hotel pool to recharge our batteries before we were heading to Mount Faber Peak in the late afternoon. It is an amazing spot to watch the sunset. A traditional thing to do at the top of Mount Faber is writing your wish on a "Wishing Bell" and attach it to the fence for good luck! It is similar to the concept of "love locks" in Paris and other cities.
A cable car is connecting Mount Faber Hill and Sentosa Islands and if you're looking for an unforgettable Restaurant Tip ($$ – $$$ of $$$) you have to check out the Cable Car Sky Dining during sunset. You will drive the route between the peak and Sentosa two times, which takes around one hour, while enjoying your dinner in the private cabin overlooking Singapore! It is an amazing experience which is surely not cheap but definitely unforgettable! The Cable Car Sky Dining offer different set menus for a different prices → you can check them out via this link!
Singapore Itinerary Day 3:
Gardens By The Bay
Expect the Unexpected Tour
Fort Canning Park
Legendary Bars
Gardens By The Bay
Not visiting the Gardens By The Bay during your trip to Singapore would be like not seeing the Eiffel Tower in Paris – it just can't be missed! I would even recommend to visit the park multiple times during different times of the day to experience it fully!
Make sure to not miss the indoor Cloud Forest which is probably my favorite part of the Gardens! As the name already implies it is a replication of a Cloud Forest with a huge indoor waterfall and countless living plants in a glassed dome. Every two hours, starting at 10am, they are "misting" the air with microscopic water droplets to simulate fog which is typical for tropical cloud forests. The mist makes the atmosphere even more magical and if you come during a sunny day you will even see beautiful sun beams shining through the windows which look amazing in photos (Unfortunately we haven't ben so lucky!). 
The outdoor area of the Gardens by the Bay can be visited free of charge while you need to book a ticket and time slot online for your visit of the Cloud Forest. It comes as a combination ticket with the Flower Dome which exhibits plants from all continents. The Flower Dome is also worth a short visit but definitely not as spectacular as the Cloud Forest. → Find the website for the tickets and availability here!
After your visit, spend some time to simply stroll around the Gardens with its many installations, plants, relaxing spots and wonderful photogenic places. I marked you my two favorite photo spots in the map at the end of this post!
The most famous sight in the Gardens By The Bay are without any question the Super Trees! These artificial trees collect solar energy to power a daily light show and their trunks are vertical gardens with more than 150.000 living plants.
Make sure to come back to the Super Trees in the evening for a spectacular event which happens every night! Find more information about this spectacular event below.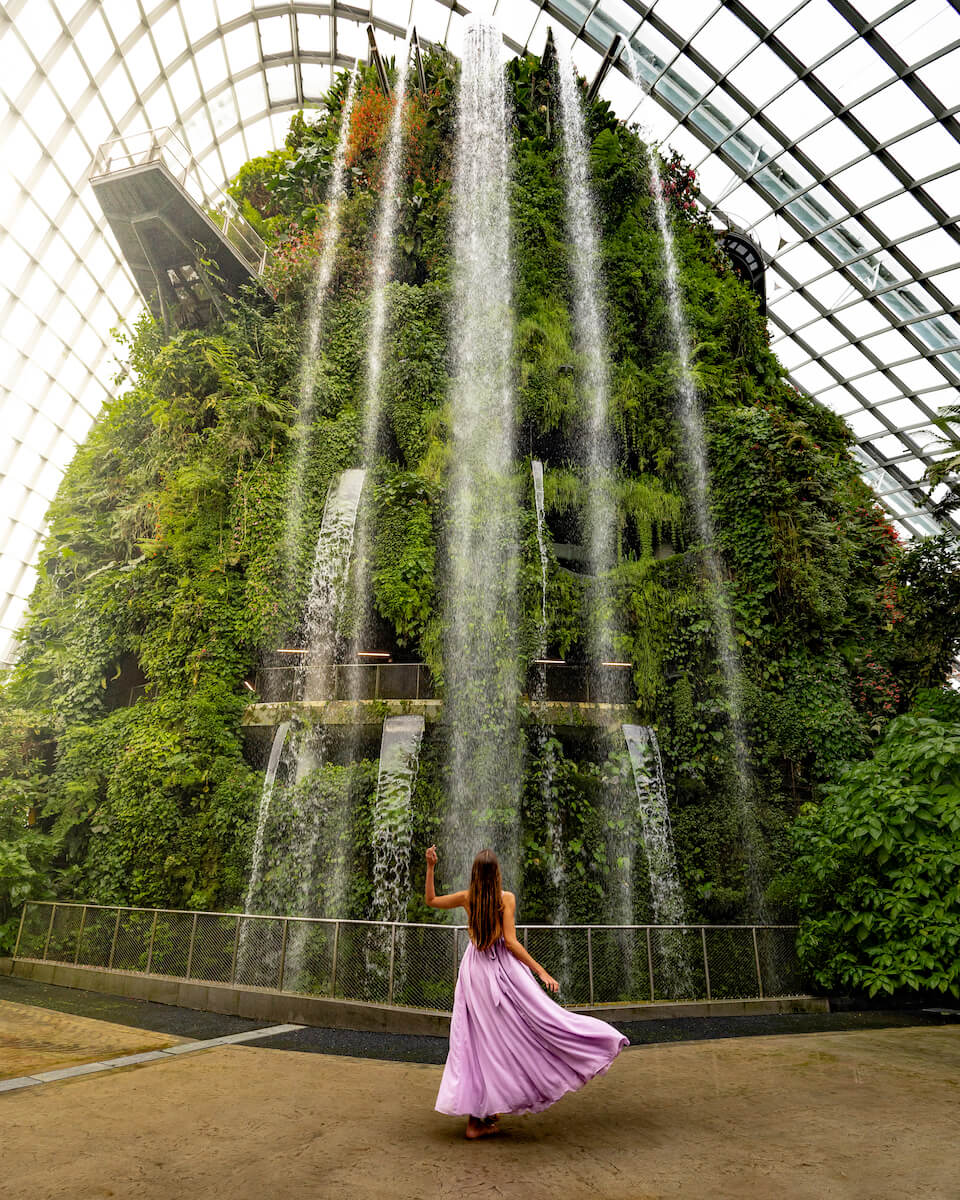 Expect the Unexpected Tour
To experience how the Singaporeans live like and to see the local neighborhoods away from the touristy tracks, we booked a tour together with a local guide called the "Expect the Unexpected Tour" (linked here). During the tour we got an interesting insight in the daily life of Singaporeans which we would never have experienced normally! My highlight has been the tiny village Kampong Lorong Buangkok. It is the last place which still shows how the locals lived in Singapore before the 60s. Even though most houses are uninhabited today, they still stand in their original way. Around ten people do still live in Kampong Lorong Buangkok, which is the only part of Singapore which does not belong to the government!
Fort Canning Park
In the late afternoon and for sunset we came back to the city center and visited the green Fort Canning Park. It is a beautiful park which offers great views over Singapore.
For an excellent photo location do not miss the Fort Canning Tree Tunnel! If you look up from the bottom of the staircase you'll see a huge tree through the tunnsel, which grows at the top and almost looks like a painting!
Good to know: A wide angle lens makes this staircase look even higher and more spectacular than it actually is!
Legendary Bars
Bar Tip ($$$ of $$$): The Raffles Hotel in Singapore is probably the most famous hotel in the city state and has a long history! It was opened in the late 1880's and quickly became one of the most distinguished holiday destinations in Asia. The legendary Long Bar has been a magnet for travelers from all around the world! Make sure to step by to try the world-famous Singapore Sling which got invented 1915 in the Long Bar of the Raffles Hotel in Singapore! The 30,- S$ / 20,50€ for one Singapore Sling are definitely not a steal but they are extremely delicious and the atmosphere in the bar is amazing! It definitely can't be missed on your Singapore Itinerary!
Bar Tip ($$ of $$$): The second bar we visited and loved this night has been ATLAS with a 1920s interior. Expect amazing cocktails (they are specialized in Gin & Tonics), good music and a truly unique atmosphere. ATLAS is the ideal place to end an amazing night in Singapore and to meet people!
Singapore Itinerary Day 4:
Tiong Bahru Market
Kampong Gelam
Side Cars Tour
Gardens By The Bay – Super Tree Show
Open Farm Community or Labyrinth Restaurant
Tiong Bahru Market
If you're on the hunt for some of the best Hawker Food Stalls in Singapore you can not miss the Tiong Bahru Market. I would recommend to go for a late breakfast or during lunch. At the ground floor you'll find the wet market with fruits and vegetables, while the first floor is very well known for its amazing food stalls among locals and visitors! My highlight where freshly squeezed sugarcane juice with lime, fried duck with rice and Pak Choy and the local desserts and coffee – but you can find so many more options! This market is the right place for foodies who love to taste different small and traditional dishes for a cheap price!
Kampong Gelam
Singapore has countless different neighborhoods which are all unique in their own way. Kampong Gelam is the Muslim quarter which is absolutely worth a visit and one of the oldest urban parts of Singapore. Here you can find unique little shops and restaurants just as the beautiful Sultan Mosque which seems to come straight out of an Aladdin story!
Side Cars Tour
For a quite unusual but definitely memorable sightseeing tour I can not recommend the Singapore Side Cars Tour high enough! You get picked up by a local guide on a vespa with a vintage side car! They will show you some of the most famous and lesser known parts of the city in a fun and unique way. The tour takes around one hour with several photo spots and you can choose where you want to get picked up and dropped off. I never experienced a similar sightseeing tour in my life – it was so much fun!
Gardens By The Bay – Super Tree Show
Right before sunset we came back to the Super Trees at the Gardens By The Bay to watch their nightly music and light show which starts at 8pm! I would recommend to come a littler earlier though since the trees are an excellent photo location with the famous Marina Bay Sands hotel in the background! When the sun starts to set, the trees slowly begin to sparkle which makes a truly magical sight.
There is one particular spot which overlooks the sunset and the Super Trees perfectly – I marked it in the map at the end of this post.
After taking some photos we decided to watch the light & music show from the TOP of the Super Trees! Yes, you read it right: There is a suspension bridge called the Sky Walk which connects multiple Super Trees! From up here you have an amazing view over the Gardens and the Marina Bay Sands Hotel right behind it. Good to know: The entrance fee for the Sky Walk is 8,-S$ / 5,30€ per adult. But you are only allowed to be up on the bridge for around 15 mins so make sure to plan your visit according to what you want to experience: daylight, sunset or the light show?
Open Farm Community
Even though Singapore is a metropole it is a very green city state since the Singaporeans mastered "Urban Farming and Gardening". This means that gardens and parks can be found all around the city – often even on the buildings themselves!
Restaurant Tip ($$ of $$$): Open Farm Community is an urban farm & restaurant concept with an organic menu. 30-40% of all of the used products come straight from their own farm which the restaurant is surrounded by! If you want to take a walk around the farm before your delicious dinner, make sure to come before sunset. But even in the evening the restaurant ist a great location which is absolutely worth a visit.
Labyrinth Restaurant
Restaurant Tip ($$$ von $$$): Are you more in the mood for a unique dinner experience your last evening in Singapore? Then the Labyrinth restaurant is guaranteed the right choice for you! It belongs to the 50 best restaurants in Asia and has already been awarded with one Michelin Star! All dishes on the set menu are new interpretations of Singaporean classics by chef Han, who was born and raised in Singapore, while using locally sourced ingredients! The dinner we had at Labyrinth was an unforgettable experience and so much more than "just a dinner"!
Good to know: Labyrinth is closed on Mondays and Tuesdays and requires a reservation.
I hope my Singapore itinerary will help you to plan your own trip or inspired you to book a trip this year! Singapore is without any question one of my favorite cities in the world which you simply have to put on your bucket list!
Map with all mentioned places & photo spots: