Mauritius – A wild island in the middle of the Indian Ocean, not far from Madagascar on the East Coast of Africa.
If you are one of those travelers who like to combine their beach vacations with adventures, wild life & hikes, then Mauritius is the ideal destination for your next vacation!
I have traveled the island already twice and in this post I will tell you my most favorite places, which you must not miss on Mauritius! In addition, you will find in this post my personal travel tips for Mauritius, advice on things to do in Mauritius and a map with the most beautiful places & attractions on the island.
The best things to do in Mauritius with map & travel tips
When is the best time to travel to Mauritius?
When autumn begins in my home country Germany, Mauritius is slowly entering summer, which brings sunny warm temperatures.
But even the winter (May to October) Mauritius is worth a visit, because the temperatures do not fall below 20-23 degrees Celsius. A plus point of winter on Mauritius is that you will meet far fewer tourists, as well as benefit from low hotel prices.
During the gliding periods between summer and winter, it is usually a bit windy on the coast, which means that it can quickly get chilly, especially in the evening. A light jacket and a sweater should therefore definitely be in your luggage!
How many days are ideal for Mauritius?
To explore the island, do some hiking, discover beaches and still have time to relax, 7 to 10 days are ideal. This period is enough to enjoy the most beautiful places and sights on Mauritius at a leisurely pace. It also will allow you enough time for all the tings to do on Mauritius. However, you can also add more days to your itinerary if you want to unwind a little longer.
How to get to Mauritius?
From Europe you can fly with Air Mauritius from Paris to Mauritius in about 11 hours. Another popular hub is Istanbul: Turkish Airlines flies about 10 hours from the Turkish capital to the African island.
With Condor, Mauritius can be reached directly from Germany, but the airline is clearly not one of my favorites in terms of comfort, which is why I like to avoid long flights with Condor.
The trip to Mauritius is long, but it is worth it!
Book your stay in Mauritius
The best places to visit in Mauritius
The most beautiful waterfalls
Chamarel Waterfall
One of the easiest waterfalls to reach, which offers a breathtaking view, is the Chamarel Waterfall in the Chamarel Geopark. From the parking lot you will only need to climb a few steps to reach the viewpoint. The 83m high Chamarel Waterfall is the highest waterfall on Mauritius and plunges down a cliff into the abyss surrounded by spectacular scenery.
Unlike other waterfalls on Mauritius, you can't swim in this one, but it's worth a visit just for the view.
An entrance fee of 500 MRS (Mauritius Rupees) / 11.50 Euros must be paid for Chamarel Park, but this also includes other well-known sights in Mauritius, which are located in the park. Among those is the Seven Colored Earths – This is the name of the colorful hilly landscape, which looks as if it came from another planet. It was created thanks to the volcanic activity of Mauritius several million years ago. Over time, the warm and humid weather eroded the basaltic rock, creating the unique shape and color of the Seven Colored Earth.
You can also see a small group of Aldabra tortoises, which are originally from the Seychelles and were settled in Mauritius in 1880 after the native tortoises were unfortunately wiped out. 
→ Mauritius Waterfall Tips by my Followers:
Gris Gris Waterfall
Very close to Gris Gris beach (more on that below), you'll find the hidden and lesser known Gris Gris waterfall, which most tourists miss because they don't know of its existence! (Which, by the way, includes us. We didn't get the tip until after we left).
To find this secret spot on Mauritius, follow the path along the Gris Gris cliffs while keeping the ocean on your right. You will reach a clearing between the trees, from where you can already hear the sound of the water.
Tamarin Waterfalls
One of the most impressive waterfalls on Mauritius is the Tamarin Falls, which falls on several levels into a total of seven pools, in which you are allowed to swim. It is possible to hike down and up all the pools, but that would take an entire day. However, a hike up to the third natural pool is well worth it.
The most impressive hikes in Mauritius:
Among the best things to do in Mauritius is definitely the hiking. You will have the chance to explore so many beautiful locations. 
Le Pouce
The most beautiful hike for me in Mauritius, was the trail to the top of Le Pouce, which means "The Thumb". The mountain is with its 808 m height, the third highest elevation on Mauritius.
The path to Le Pouce begins moderately and initially leads through a forest until you have pushed through the treetops. Here you are already rewarded with great views.
Follow the path for about an hour and shortly before the summit you will meet a small monkey family that lives here and curiously eyes hikers.
Only the last little bit involves a bit of climbing, but it's worth the effort. On the summit you get an indescribable panoramic view of the coast as well as the surrounding impressive mountains. It was, for me, the most beautiful view, which we were allowed to see in Mauritius!
With sturdy shoes, a good profile and if you are relatively athletic, the climb, even on the last meters, is no problem. We even encountered a family with a daughter of about 13 years, who made it to the top without any problems.
But even if you prefer to skip the last meters of climbing, the hike is well worth it!
Le Morne Brabant
Climbing the 555 meters up to the basalt monolith on the Le Morne peninsula is high on many travelers' to-do list for Mauritius. But the hike is a tricky one..
For the ascent and descent for Le Morne Brabant you should plan about 3 hours, whereby the first hour uphill is unproblematic and with a moderate climb.
But after the "South West Viewpoint" the most difficult part begins, where a sign "Dangerous Climbing" warns. From here follows intense steep climbing, without any protection. Especially on the way back, the path is very slippery due to scree and should only be covered with a very good shoe profile and by climbers in good physical condition.
We decided against the ascent of the last piece, because it was already shortly before sunset and we only wore sneakers without much profile. Next time we will be better prepared.
However, we did have our drone flying and the view from the "South West Viewpoint" was already great.
For children and older people, I would recommend the hike to Le Morne Brabant only up to this penultimate viewpoint before the difficult part starts afterwards.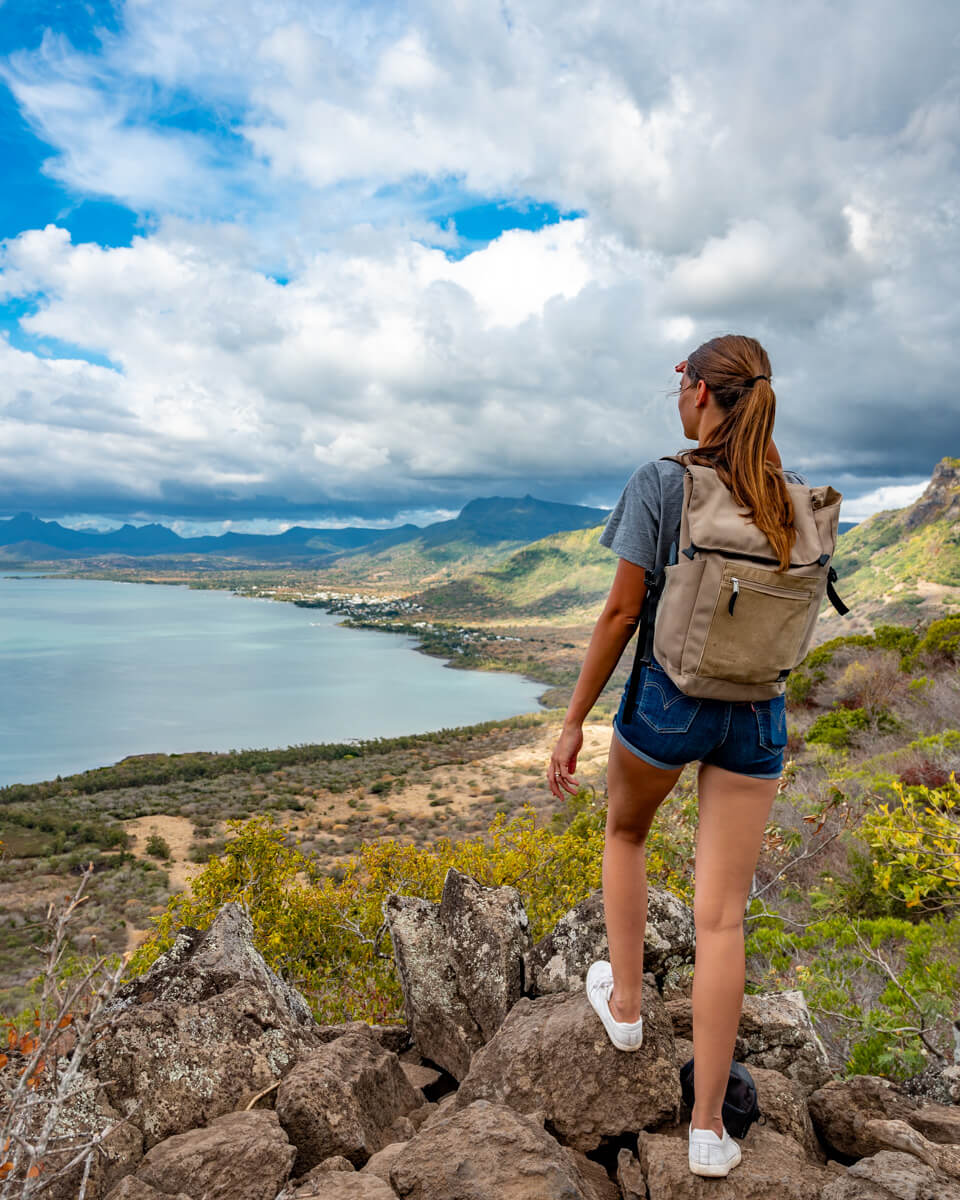 → Mauritius Hiking tip by my Followers:
La Tourelle du Tamarin
For a unique view of the lagoon and the striking Le Morne Brabant, I was recommended the hike to La Tourelle du Tamarin by a follower from Mauritius. We'll make up for that next time!
The best beaches in Mauritius
Among the best things to do in Mauritius is sometimes simply to do nothing at all. Visit a beautiful beach and relax for the day.  
Le Morne Beach
The beach around the Le Morne peninsula is one of the most beautiful ones in Mauritius: white sandy beach, a shallow entry into the water and a breathtaking view of the sunset.
There is a public "Public Beach", but in Mauritius all beaches must be open to the public – even if they are right next to a resort. Therefore, you can walk along the water until you find a nice spot. We especially liked the area in front of the resort "LUX Le Morne".
During a boat or catamaran tour, it is worth taking a detour to the turquoise lagoon in front of Le Morne. It resembles an aquarium with starfish and colorful fish, which makes it ideal for snorkeling. The best spots are in front of the Beachcomber Golf Resort and around the famous Crystal Rock – a mushroom-shaped coral rock that juts out of the water.
→ Mauritius Beach recommendations by my Followers:
Mon Choisy
Pereybere Beach in the North of the island
Blue Bay in the South
Gris Gris & Roche qui Pleure in the South, which are not suitable for swimming, but for great drone shots. The high waves rush with an impressive force onto the reef, which makes for a great sight.
Tours and places you can't miss during your Mauritius trip:
I would not want to finish my Article without showing you the best things to do in Mauritius and the most exciting activities. Everyone offers a unique experience and a lifelong memory. 
Attending a Dolphin or Whale Tour
In the waters around Mauritius, dolphins and sperm whales can be seen all year round. A tour to swim with the gentle giants is therefore an unforgettable experience, which you must not miss on your trip to Mauritius.
Between July and November you even have the chance to meet the impressive humpback whales.
Unfortunately, not all providers offer tours that are pleasant for both humans and animals. We have not experienced it ourselves, but learned from a follower that some packed boats probably race without consideration in the dolphin schools.
We therefore opted for a tour with → Vitamin Sea, which is both animal-friendly and unforgettable for the participants. Vitamin Sea only offers private excursions to guarantee an individual experience. Although the tours start as early as 5:30 a.m., it is worth getting up early. At this time there are no other boats in the lagoon and the dolphins are most active. 
While the sun was slowly rising, we encountered the first larger school of spinner dolphins, but they still seemed sleepy and wanted to have their rest, which is why we did not jump into the water, but we kept a lookout for another school! With success: A little later we discovered a small group of bottlenose dolphins, which were very playful and romped with us through the water.
It was an unforgettable experience to see the animals up close and hear how they communicate under water.
I highly recommend the tours with Vitamin Sea – it was one of the best moments of our trip and I think will be the best thing to do in Mauritius for anyone visiting this beautiful island.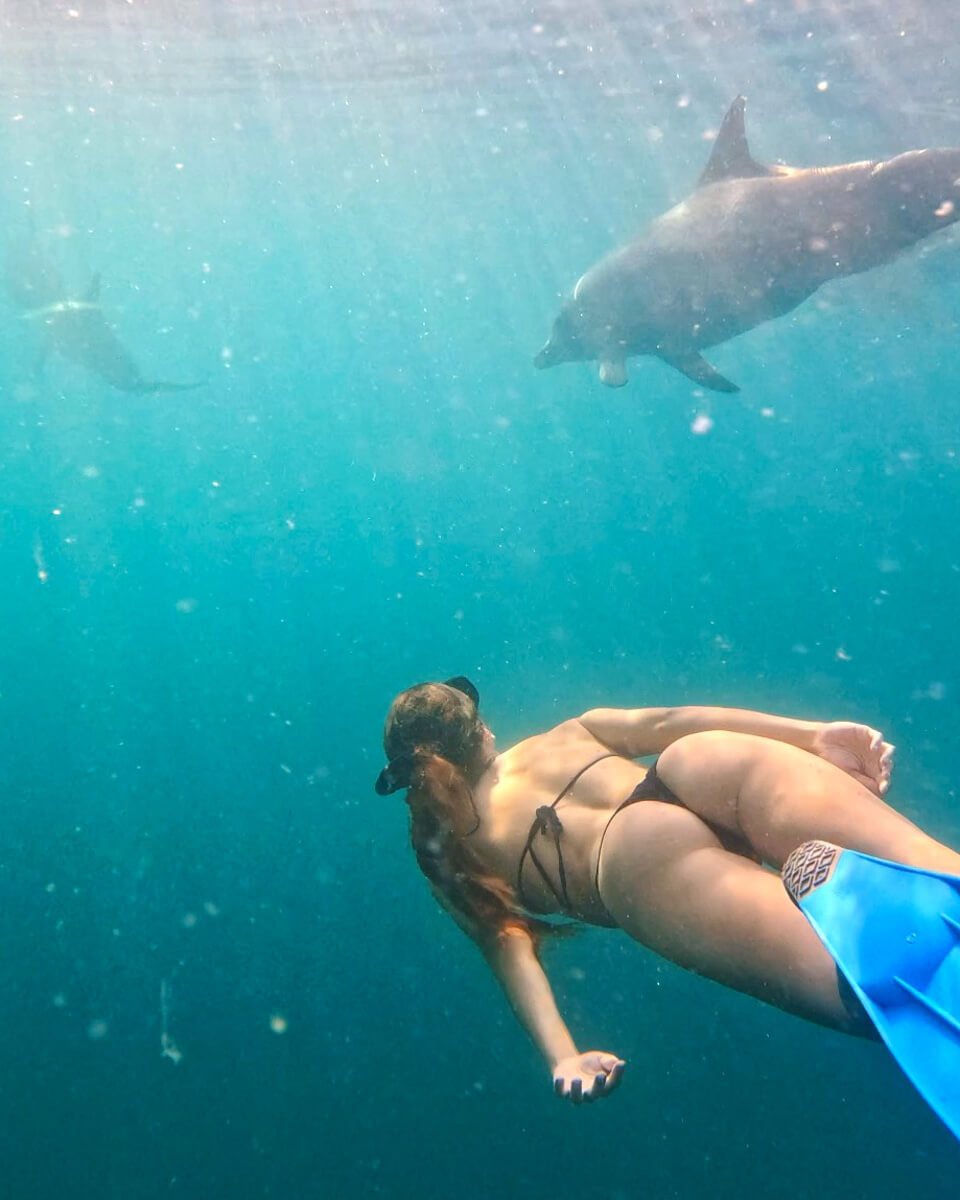 Visiting the Chamarel Rum Distillery
Driving around the island you will see numerous fields where sugar cane is grown. From this not only sugar can be produced, but also a worldwide popular spirit: rum!
A visit to a rum distillery belongs without a doubt on your travel list for Mauritius! There is only one distillery that still produces its rum traditionally from fresh sugar cane and does not use industrial molasses: At the Chamarel Rum Distillery, you can experience up close how the noble drop is produced in different stages.
Tours are offered every hour and cost 439 MUR / 10 euros per adult. This includes a tasting of seven rums and the ticket fee is consumable (discounted from your restaurant bill) afterwards in the restaurant, which belongs to the distillery.
Black River Gorges National Park
The largest protected forest on Mauritius is the Black River Gorges National Park, through which meanders more than 50km of trails, as well as the dark Black River. The forests with ancient ebony trees provide refuge for numerous bird species, wild boar, monkey colonies and deer. You can get a great view of the area from the Gorges Viewpoint lookout.
A helicopter flight over Mauritius
Unfortunately, we missed this experience on Mauritius, because we did not take care of it early enough: A helicopter flight over the striking landscape of Mauritius and to the "underwater waterfall" in front of the Le Morne peninsula.
Although the flights are very expensive, they are already booked up several days in advance. Therefore, it is worthwhile to look for an appointment at the beginning of your trip or already at home. There are numerous providers, which, however, hardly differ from the tours and prices.
Saving tips:
– You will save money if you book a helicopter flight for four people, because the third and fourth person only pays a small surcharge. Therefore, it is worth organizing a trip together with family members or friends.
– A cheaper alternative to the helicopters are sightseeing flights with a seaplane over Mauritius. However, due to the price, these are usually booked out even earlier.
Visit the Flacq Market
The best market in Mauritius for souvenir shopping or just to marvel is the Flacq Market in the east of the island. It is much less touristy than the larger market in Port Louis. The market sells everything from vegetables and spices to jewelry and clothing! The market is very popular with locals, which is why you will have an authentic experience here!
Mauritius is not a classic vacation island where there are only white beaches and blue water, but it has so much to offer! Due to its diverse landscape, it offers a wealth of activities that guarantee an eventful trip!
I hope this post with the best things to do in Mauritius helps you plan your own unforgettable adventure.
On my Instagram profile you can also find my Mauritius Story Highlight, where you can relive all the moments up close. If you have any questions, feel free to ask me in the comments or send me a message on Instagram.
Map with the best places to visit in Mauritius: