Seychelles Travel Tips and the perfect Itinerary
What is the best time to visit the Seychelles?
The Seychelles are a great travel destination with lots of sunshine and blue water throughout the whole year so the best time to visit depends on you personal preferences:
– Do you want to skip the peak season when mosts tourists are on the islands? Then book your stay January to April to avoid the high season during the summer months May – August. This is also the right season if you want to experience the hatching of the endangered Hawksbill sea turtles at the beaches (Jan – March). April is one of the best months since the weather is warm and mild.
We've been to the Seychelles in November and had beautiful sunny weather but sometimes strong winds which means higher waves. During November – January you also have a bigger change of the tides at the beaches.
How many days are ideal for the Seychelles?
The right amount of days you're planning to spend on the Seychelles, depends on how many islands you're planning to visit.
Mahé is the biggest Seychelles island and I would suggest you at least five days. If you want to spend a few more days of relaxing & doing nothing, then I would suggest even more. We decided to split our time on Mahé and spent six nights in total, including five days of exploring and one full day of pampering ourselves in a luxury resort.
Praslin is smaller than Mahé but has many beautiful beaches and must see places. We spent four days on this island, including a full day boat trip and it was absolutely perfect.
La Digue is tiny so we only planned two nights there but I would suggest to stay three nights.
This makes a total of 12 days which is exactly what we did & it has been perfect!
How to get around?
Transfer between the islands:
If you're planning island hopping during your Seychelles trip, which I can highly recommend, you will need to transfer between the islands by ferry (I leave the link to the company we used here) or by plane:
Mahé – Praslin:
Ferry ride: 1 – 1,5 hrs for around 50,- EUR per person / direction
plane ride: 15 mins for around 200,- EUR per person / direction
Praslin – La Digue:
Ferry ride: 20 mins for around 14,- EUR per person / direction
If you want to travel between La Digue and Mahé you will have a short stop in Praslin since there is no direct ferry connection. But you can still book it with one ticket and usually can stay on the same boat as well.
How to get around on the islands:
There are public buses on Mahé and Praslin but I can highly recommend you to book a rental car for your stay which makes it a lot easier to get around the island and to reach places off the beaten path. Additionally a car will safe you a lot of your precious holiday time cause not all bus stops are located close to the best beaches and attractions. This means that you would often have to walk for quite a distance in the heat on streets leading up and down.
La Digue is so small that you won't find rental cars on it. Locals ans tourists simply get around the island by bicycle which can be rented at the ferry station or directly in the hotels.
Which budget should I plan for the Seychelles?
Many people think that the Seychelles are a high-end luxury destination and not suitable for budget travelers. But that's not 100% true: Yes, the Seychelles have amazing luxury resorts and the prices for a stay have no limit to the top. But at the same time you can definitely plan a budget friendly trip to the Seychelles.
A big saving trick is to book apartments with your own kitchen. Even basic restaurants in the Seychelles are quite expensive and main courses are usually between 15 – 30 EUR per person. That's why you can save a lot of money if you cook your own meals and breakfast. The groceries in the supermarkets are still a bit more expensive than back home, especially if the products have been imported, but you will still save a lot of money!
We decided for a mix of budget friendly apartments, some nice mid-priced hotels and a few days in a luxury resort to pamper ourselves.
Here is a price example for one week on Praslin per person
Accommodation: Nice apartment at the beach with kitchen (f.e. Seashell Beach Villa): 100,- per night for 2 persons = 350,- EUR per week / person
Food: 10-15 EUR per day / person when cooking your own meals or 25-35 EUR per day / person eating out = 70 – 245,- EUR per week / person
Transfer between islands = 100,- EUR per person
Entrance to National Parks & Full day Boat Tour = 150,- EUR per person
Rental Ca:r 40 – 50 EUR per day = 140 – 175 EUR per week / person (The price is based on traveling as a couple. In case you're traveling as a bigger group, the price per person will be lower.)
= 910 – 1.120 EUR per week / person
What are the best beaches in the Seychelles?
If you want to experience postcard worthy beaches with blue water, soft & white sand, framed by palm trees and dark granite rocks, then you will fall in love with the Seychelles. Some of the beaches we visited belong to the most beautiful ones I've ever seen during all our travels!
Make sure to check out my blog post with the best beaches in the Seychelles, including useful information and a map to find them!
The perfect Seychelles Itinerary – Island Hopping
Every island in the Seychelles is unique in its own way. That's why island hopping is the best way to see the Seychelles properly and experience as many sides of these beautiful islands as possible.
We focused on the three most famous islands: Mahé, the biggest one with the airport, Praslin with unique beaches and nature and La Digue which is well known for the most photographed and famous beach in the Seychelles.
This is the ultimate Seychelles Itinerary to make the most out of your time:
Seychelles Itinerary: Mahé (Part 1)
our accommodation: PARADISE CHALETS SEYCHELLES
newly opened, mid-priced and modern apartments with kitchen, available with one or two bedrooms and pool
time: three nights (we came back to Mahé at the end of our trip)
Day 1
Arrival at the International Airport, picking up the rental car (we booked via Sixt)
Checking in a Paradise Chalet Seychelles
Stocking up on groceries for the next days
Day 2
Visiting Cap Ternay
There is basically one main road which leads around Mahé so for our first day we decided to visit the part of the island which is the farthest away from our accommodation: The North of Mahé.
Cap Ternay is located at the end of the main road and a very unpopular beach among tourists. It is a calm bay with shallow emerald green water surrounded by a lush greenery which will make you feel like you stepped right into Jurassic Park!
Sans Soucis Road & Victoria
Sans Soucis Road is a scenic drive through the mountains of Mahé with lovely view points which connects the Northern part with the capital Victoria. There are several hikes you can do along this road. We did one of them during our last days on the Seychelles, when we came back to Mahé – but read more about this later.
Victoria is not only the capital of the Seychelles but also the only city in the country! With less than 30,000 inhabitants Victoria is one of the smallest capitals in the world. Exploring the city will not take very long: Visiting the market, the national museum or the botanical garden and seeing the clock tower – a mini version of the Big Ben – and enjoying a burger and cold drink at the harbour.
Sunset Beach
In the evening we came to a beach which is ideal to watch the sunset: Sunset Beach – what a fitting name 😉 Park your car at the road side and walk a few steps to the small beach which is usually almost empty! The view and the colors are absolutely incredible.
Day 3
Police Bay
If you want to see one of the most beautiful and lesser known beaches on Mahé then you definitely need to put Police Bay to your Seychelles itinerary! You will need to drive a few minutes off road and walk a litte to reach the beach, but it is definitely worth it. Just be aware of the usually strong current at this bay. Find more information about this beach and how to reach it in my "Best Beaches in the Seychelles" blog post.
Takamaka Rum Distillery
The Seychelles are not only famous for beautiful beaches but als for rum made out of sugar cane. If you would like to taste the local product and see how it is produced, I can highly recommend you to visit the Takamaka Rum Distillery. They offer free tours and rum tastings for 100 Seychellois Rupee (around 6,50 EUR). But make sure to arrive in the early afternoon since they already close at 4pm.
Surfers Beach Restaurant
In the evening we came to the Surfers Beach Restaurant which is just across the street from the Paradise Chalets. It is located at a little beach on the South East coast. This means that you won't have a direct sunset view. But anyways the colors have been visible. The food at the Restaurant is good, but not outstanding and the prices are typically high for the Seychelles: I had a local Creole Chicken Curry for around 14,- EUR.
Day 4
Sunrise at Anse Baleine
We decided to split our time on Mahé in a few days at the beginning and some more at the end of our trip, since we had to come back for out international flight anyways.
On the fourth day we planned to take the ferry to Praslin.
Before we took the boat in the late morning, we started the day at the beach Anse Baleine just in front of our accommodation. The beach offers a direct view at the sunrise and is incredibly photogenic with palm trees leaning over the waves. If you're planning to stay at the Paradise Chalets or at another accommodation in the South, it is definitely worth a visit to take some photos in the morning.
Seychelles Itinerary: Praslin
accommodation: SEASHELL BEACH VILLA
a small, family owned and budget friendly hotel with several apartments with kitchen, located at a beautiful beach at the West coast of Praslin
P.S. It is way nicer in reality than as it looks on the booking website! I can highly recommend this accommodation.
time: four nights
Day 4
After our sunrise at the beach we drove to the ferry station on Mahé to remove our rental car. The good thing about the Sixt company is, that they have a station at the airport and ferry station which is very convenient.
The ferry to Praslin takes around 1 – 1,5 hrs and costs 50,- EUR per person which is not cheap but definitely more affordable than the 200,- EUR for a plane flight between both islands.
Arriving at the ferry station we rented a car with a small local company and drove to our accommodation at the beach and got some groceries.
Day 5
Vallée de Mai
After relaxing at the hotel beach in the morning, we drove to the center of the island to one of the biggest landmarks in the Seychelles: The Nature Reserve and UNESCO heritage side Vallée de Mai which is home of the Coco de Mer – the biggest seed in the world! This palm forest in the green heart of Praslin has been isolated from the rest of the world for millions of years which led to the evolution of a unique flora and fauna. Many species can only be found here! That's why visiting Vallée de Mai feels like traveling back in time to the ancient palm forests of the Seychelles.
The Coco de Mer palm is not only producing the biggest nut in the world but is also highly endangered. The nuts only grow on the female palm trees and it takes around seven year for one nut to be fully ripe, fall to the ground and produce a new palm tree. That's why it is highly forbidden to eat the Coco de Mer by the Seychelles Gouvernement. Our guide told us that the taste is incredibly flavorful (he knew the taste from when he was still a child and it was still allowed to eat them). When you pick up the shell of a fallen Coco De Mer on the ground to smell it, you will get an idea of the taste – it smells like a Pina Colada. 😀
cost: 350 SCR (around 22,- EUR) per person, without guide
opening times: 8.30 am – 4.30 pm (Fridays only until 1pm)
Anse Georgette
In the afternoon we drove to the Constance Lemuria Resort which is where you will find the most beautiful beach in the Seychelles: Anse Georgette! By Seychelles law all beaches have to be accessible to the public even if they are surrounded by a resort. You just have to register your visit at the Constance resort in advance. The best is to do this one or two days before your planned visit. Simply tell the receptionist of your hotel your preferred date and they will take care of it! You find more Information about Anse Georgette and how to reach it in my "Best Beaches in the Seychelles" blog post!
For me Anse Georgette is clearly the most beautiful beach we've seen in the Seychelles and even belongs to my Top 3 beaches around the world – so it is definitely a must see on your Seychelles Itinerary! The water is blue and perfect for a swim, the sand is soft and the whole scenery is incredibly photogenic. Beside that it is a perfect spot to watch the sunset in the evening.
Restaurant Paradisier
After watching the sunset at Anse Georgette we decided to treat ourselves for dinner at the lovely Restaurant Paradisier. It is not far away from the Seashell Beach Villas and has really delicious food. We paid 310 SCR (19 EUR) for a big pizza which is not cheap at all but a typical price for the Seychelles.
Day 6
Full Day Boat Trip to Curieuse Island
When you're visiting Praslin, you should definitely plan one day for a boat tour around the island to go snorkeling and most importantly: to visit the nearby Curieuse Island! It is a National Park and home of around 200 Seychelles Giant Tortoises which roam around freely on the island.
We can highly recommend the full day tour with Angel Tours, which the friendly owner of the Seashell Beach Villa organized for us. The price for the tour is 100,- EUR per person, which includes the following:
pick up from the hotel in the morning
visiting two different snorkeling spots – one of them is the beautiful tiny island St. Pierre which you can see on the photo below
Exploring Curieuse Island to see the tortoises and hike to a hidden beach
Delicious lunch at Curieuse Island
National Park fee
Visiting Anse Georgette at the end of the tour for a swim
We were back at our hotel for sunset and spent a cozy evening at the beach of our accommodation.
Day 7
Anse Lazio
There are two beaches on Praslin which are battling to be the most beautiful one in the Seychelles: Anse Georgette & Anse Lazio. You already know which one these two is my personal favorite but I also understand why some people prefer Anse Lazio: It is a huge beach which is easy to access. The parking lot is just a few steps away from the beach. Anse Lazio is great to go swimming and snorkeling which makes it to the ideal beach for families.
Hike to Lovers Bay
From Anse Lazio you can do a small hike to a picturesque small cove called Lovers Bay or Petite Anse Lazio. In my "Best Beaches in the Seychelles" blog post you'll find a brief explanation how to find the hidden path!
Lovers Bay looks like a place out of a fairytale and most likely you will have the tiny beach all to yourself. But make sure to watch out for the sea urges in the water if you want to go for a swim.
Anse Volbert
After spending the whole day at the beach, we decided to visit the area around Anse Volbert in the late afternoon. It is a bustling area and if you walk along the beach you can find different bars and cafes to relax. We stopped at Café des Artes for a small snack and coffee to end the day.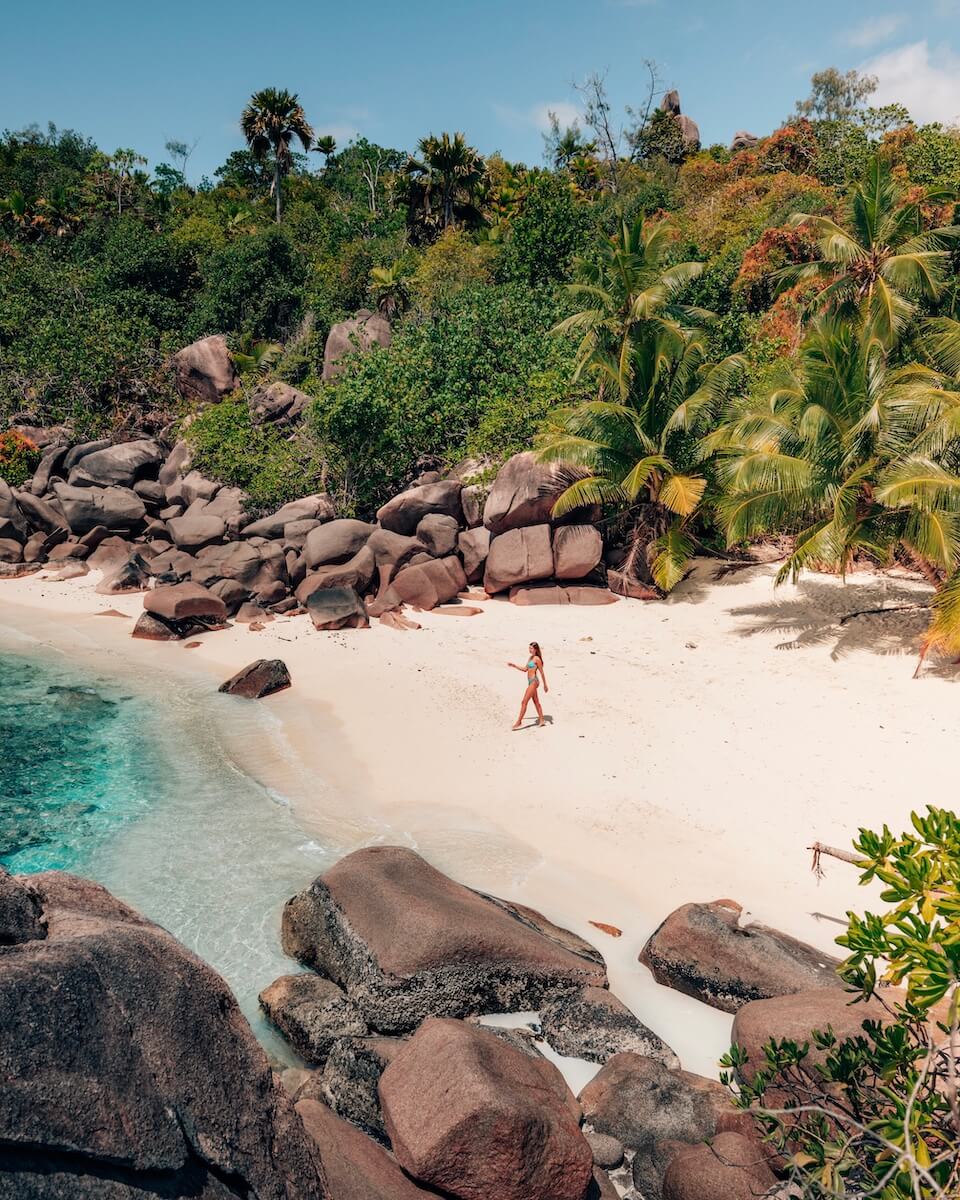 Day 8

Time to say goodbye to Praslin! On the eighth day of our Seychelles trip, we booked a ferry to La Digue in the afternoon. This meant that we still had enough time to visit one place which can't be missed on your Seychelles Itinerary:
Fond Ferdinand
Fond Ferdinand is a nature park on Praslin with a native lush vegetation. You will also find the endemic and huge Coco de Mer but the best part (& the main reason for our visit) can be found at the end of the trail: After walking 600 steps through the jungle, you reach the top of Fond Ferdinand with incredible views over the neighbored islands and the ocean – you can even spot La Digue!
times: Fond Ferdinand can only be visited during a guided tour, weekdays: 9.30 am, 11am, 12.30 pm or 1.30 pm
price: 150 SCR (10 EUR) including guide
Seychelles Itinerary: La Digue
Day 8
In the afternoon we took the quick 20-mins ferry connection to La Digue. The first thing we did after arriving at the ferry station was renting bicycles since they are the only means of transportation on the island. One bicycle costs 150 SCR (10 EUR) per day.
accommodation: We stayed at a hotel (without our own kitchen) called "Le Relax Luxury Lodge" which we were totally disappointed of for several reasons. That's why I wouldn't recommend it. We actually planned to stay at the Le Nautique which has a way better location and is really beautiful but unfortunately it was already booked out! Nevertheless we came here every night for dinner since it has an amazing sunset view and the cuisine was the best we had in the Seychelles! Can highly recommend to stay at Le Nautique or at least to enjoy your dinner here!
time: We stayed two nights on La Digue but I would suggest three nights
Sunset view at Le Nautique
Day 9
Unfortunately we only stayed two nights on La Digue which meant that Day 9 has been our only full day on the island which we wanted to use to the fullest:
Grand Anse
One of the beaches you can't miss during your time on La Digue is the beautiful Grand Anse. To reach it, you have to ride quite a bit with your bicycles on streets which lead up and down the whole time. But the strenuous way is all worth it for this amazing blue water and white soft beach with picturesque granite rocks.
P.S. A local told us that there are more beaches behind Grand Anse which are not connected to the street and can only be reached after climbing over the granite rock piles at the end of the Grand Anse.
The first beach you will reach is Petite Anse. There are less visitors on this beach than on Grand Anse but in my opinion it is not as beautiful.
The second one is Coco Beach which we heard has amazing natural pools. But when we arrived, they were quite disappointing (maybe just because we had low tide?) and definitely not worth the 50 mins hike in the heat from Grand Anse. Especially since it was our only full day on La Digue and I felt like we were wasting time..
Sunset at Source d'Argent
The most photographed and popular beach in the Seychelles is Source d'Argent on La Digue. It is located in the state park "L'Union Estate" and is easy to access. At the entrance gate you have to pay an entrance fee of 115 SCR (around 8 EUR) per person which is valid for the next day as well.
P.S. L'Union Estate has more to offer than just the famous beach. You will find vanilla plantations and the Aldabra giant tortoises! It is also popular to rent one of the famous glass kayaks which have to be reserved online a few days in advance.
After sunset we came back to the Le Nautique Hotel and Restaurant one more time for an amazing dinner!
Sunset at Anse Source d'Argent
Day 10
Anse Source d'Argent
On our last day on La Digue we came back to the L'Union Estate Park to explore it properly and to enjoy the beautiful Anse Source d'Argent during daylight.
Tip: Due to its popularity Anse Source d'Argent is quite packed during the day but many visitors just stop at the first beach and don't know that, when you follow the path a little further, you will find even more beautiful little beaches with less visitors and enough space!
After a few hours of relaxation and taking a lot of photos we drove back to the hotel to check out and reach our ferry to Mahé.
Seychelles Itinerary: Mahé (Part 2)
Day 10
Ferry to Mahé
When you take the ferry from La Digue to Mahé you will always have a short stop in Praslin since there is no direct connection. But anyways it is bookable as one ticket with SeyFerry and during the stop you can usually stay on the same boat.
After arriving back at the port in Mahé it was almost sunset time so we picked up our rental car and drove to our hotel. For our last days on the Seychelles we decided to pamper ourselves and booked a five star resort which we absolutely fell in love with:
accommodation: HILTON NORTHOLME RESORT & SPA
luxury resort with incredible rooms and pool villas, perfect to relax a few days at the beach or pool, great dining choices and especially amazing breakfast!
time: 2 nights
Day 11
Relaxation & Snorkeling at the Hilton Northolme
After ten days of exploring we decided to take it a bit slow during our last days to recharge our batteries. So we spent the whole day baking in the sun and snorkeling in the lagoon until the late afternoon.
Sunset at Petite Anse
If you're looking for a long beach with an amazing sunset view you should definitely check out the Petite Anse. It is located at the property of the Four Seasons Seychelles, but just like all beaches in the Seychelles, Petite Anse has to be accessible to the public as well. You don't need to pre-register yourself for the visit. Just drive to the resort, park your car outside of the gate and walk through the resort after a health check at the gate. The resort it huge so you will have to walk quite a bit but it is definitely worth it!
Day 12
Our flight has been leaving at 11pm on the 12th day in the Seychelles so we still had one full day to explore Mahé and one hike which can not be missed on your Seychelles Itinerary:
Trois Freres Trail
You may remember that we drove along the scenic Sans Soucis Road during our first days on Mahé but didn't had time to do one of the amazing hikes. That's why we planned this for our last day.
From the many hikes you can do along Sans Soucis Road we decided for Trois Freres Trail since it has the best views and is not as long and exhausting as some others are.
How to reach Trois Freres Trail: With your rental car, drive all the way to the bus station of the Sans Soucis Road where you will see a small street leading uphill. Behind it is a parking lot located where you can safely leave your car and start the hike.
Trois Freres Trail is quite short but – especially at the end – very steep. We needed 45-50 mins to reach the top and where blown away by the incredible views! I can definitely recommend this moderate hike during your stay in Mahé!
Eden Island
Not far from Victoria is an artificial island located, which is connected to Mahé and has a big harbor for yachts. But even if you're not traveling with a yacht, it is worth visiting Eden Island to enjoy the many restaurants, bars, shops and biggest supermarket on Mahé.
After our hike we had a nice lunch at Eden Island, overlooking the yachts before we were on our way to the last beach on our Seychelles Itinerary:
Anse Intendance
The last beach we were visiting happened to be my favorite one on Mahé! Anse Intendance is a long beach stripe with soft sand and easy to access with your rental car. Due to its length you will easily find an empty spot for yourself to lay on the sand and take a dip in a blue water with soft waves. Make sure to come in the afternoon and stay until sunset since the view is absolutely lovable!
After our last sunset, we had to say goodbye to the Seychelles, return our rental car at the airport and Check in for our late night flight!
Sunset at Anse Intendance
Résumé:
We were absolutely amazed by the Seychelles! In fact so much that this island paradise turned out to be our favorite destination we visited in 2021! The incredible beaches and unique scenery are outstandingly beautiful and we're already looking forward to return to the Seychelles in the near future 🙂
I hope my Seychelles Itinerary & Travel Tips will help you to plan your own Seychelles vacation! If you have any other questions, please put them in the comments below or send me a message on Instagram!
Make sure to check out the following blog post as well:
Plan your own Seychelles trip: