Summer in Europe is my favorite time of the year and this season we visited one of our bucket list destinations which has been on our list for quite some time: The green Greek island Corfu! We stayed in the brand new Angsana Corfu which only opened in June 2021 and this is my hotel review about this amazing resort:
The Angsana Corfu
LOCATION & TRANSFER
The Angsana Corfu is just a 20 mins car ride away from the airport in Corfu. A driver picked us up outside of the airport with the private hotel van of the Angsana! This means that you don't have to care about getting a taxi and can be completely carefree starting from the second you landed!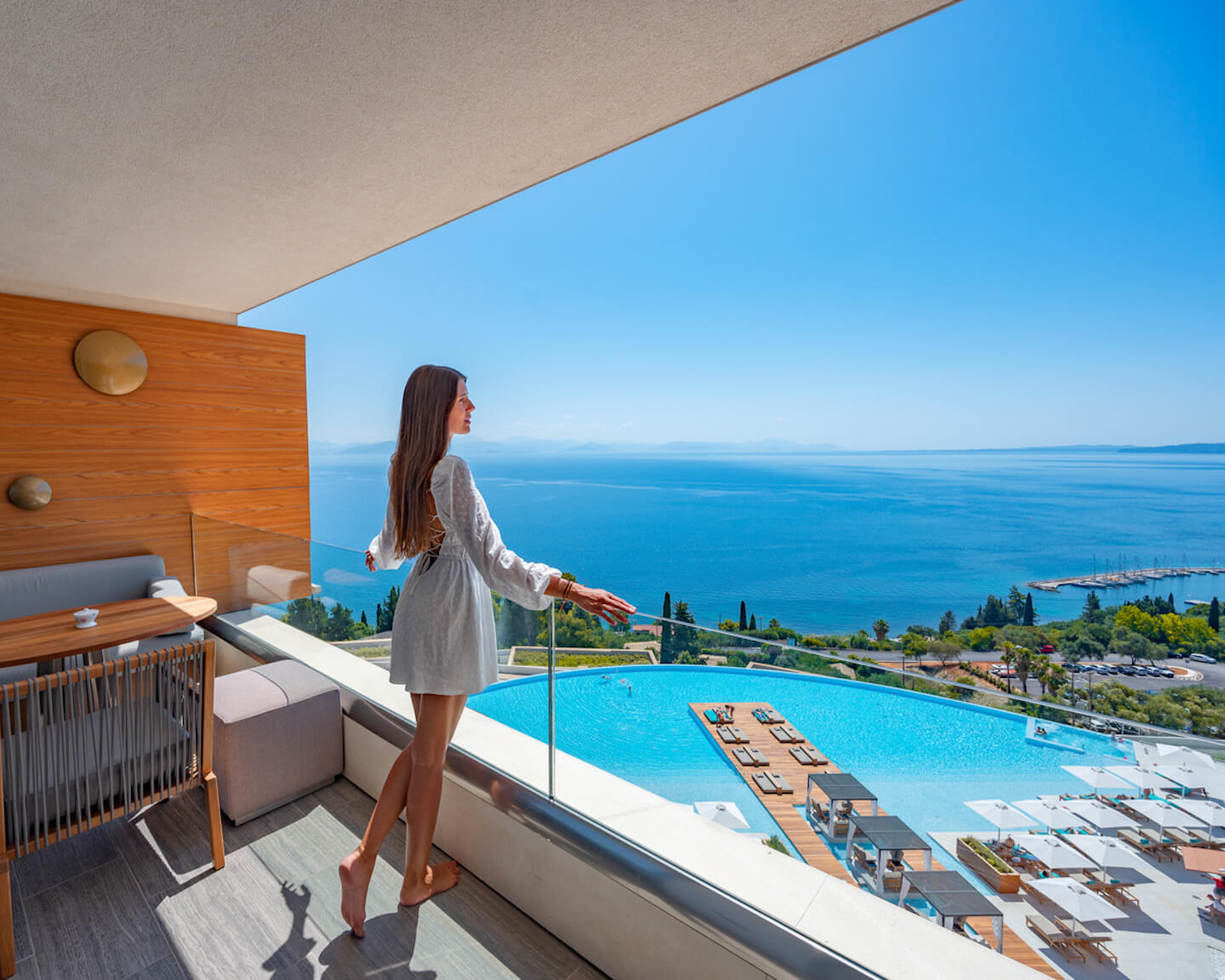 Rooms & Villas
We stayed in two different room categories during our stay. The Angsana Corfu has a wide selection starting from standard rooms, to suites with amazing views and lastly 37 villas with up to four bedrooms!
Ionian Sea View Suite
This room category is perfect for couples who like to have a lot of space with a separate living area, a bedroom, spacious bathroom with a freestanding bathtub and rain shower. My personal highlight is the terrace from which you can overlook not only the main pool but also the Ionian Sea and nearby green mountain. Outside you'll find a sitting area and a relaxing sun bed to enjoy the views and the sunshine.
Two-Bedroom Villa with Pool
The villas are the perfect options for families or friends traveling together or simply for couples which like to have some extra privacy and luxury. From one-bedroom up to four-bedroom villas there is the perfect choice for all kind of travelers! They all have one thing in common: A big private pool and a sunny terrace overlooking the sea.
While the main building with the rooms and suites is very modern the villas are constructed in a traditional European style which is very beautiful and reminded us of a finca. Of course they are brand new as well but I would say that they are more cozy than the main complex. I loved that our two-bedroom villa not only had a spacious living room but also a kitchen and eating table where you can cook your own meals if you're in the mood for it! On both sides of the living room is one bedroom each and they both have their private bathroom with bathtub and shower. From the bed we were looking at our verandah with an amazing sunrise right behind it every single morning! I can highly recommend to book an in room breakfast which will be delivered right to your terrace with your food of choice – there is no better way to start the day!
As soon as you set foot in the hotel you feel that the resort is brand new with a modern but cozy interior as well as a friendly and motivated staff. You can find many stylish places all around the resort like the sunrise pool bar, the lobby or most of all: the insane pool. Thanks to the higher location of the resort on a hill you can enjoy uninterrupted views in almost every direction!
The Pool
The centerpiece of the Angsana Corfu and what lets the resort stand out from others is the incredibly huge infinity pool which offers unparalleled views over the Ionian Sea and the surrounding. Especially during sunrise the pool transforms into a huge mirror which reflects the most beautiful orange and golden colors of the sky which makes a spectacular scene! It is absolutely worth the early wake up call 😉 But also during the day the pool is the ideal place to relax and bask in the sunshine in one of the many loungers or cabanas while sipping a cocktail from the Sunrise Pool Bar!
The Beach
If you're the kind of person that loves to put their feet in the sand instead of laying at the pool, you will love to hear that the Angsana Corfu has a private beach! It's located downhill right under the resort and can be reached via a short shuttle ride. The beach itself is sandy and offers several cabanas and sun beds to relax. The water is very calm and clear with round stones in the water. Make sure to walk the beach all the way to the end to find my favorite spot: Behind a picturesque rock is a little bay to go in the water. Since most guests stay at the sunbeds close to the Beach Bar this spot feels like a private beach just for yourself! During our stay at the beginning of July 2021 the bar was still constructed but they plan to open it soon to offer a selection of cocktails and snacks right at the beach.
Wellness
With a main focus on wellness and well-being the Angsana Spa & Gym are incredibly huge with many treatment possibilities, private trainings or sunrise yoga.
The Gym
The gym is honestly the biggest one I've ever seen in a hotel: They have a group training room and a single training room, one with all strength machines and another one with all cardio machines which overlooks the indoor pool! Yes your heard it right: beside the one outdoors the Angsana has a second pool indoors for aqua sport sessions. Outdoors is a separate Yoga terrace with a panoramic view! We usually don't often work out when we're traveling but this incredible gym was way too tempting not to try it!
The Spa
After an exhausting workout it's time to recharge the batteries in the Angsana Spa which is the biggest Spa in Corfu! It has a very new but warm and cozy interior with couple and single treatment rooms which all have incredible views in different directions. For couples I can recommend to book a recharging treatment which includes a combination of a relaxing bath & massage in one of their couple rooms with bathtub. The relaxing area is spacious and light with floor-to-ceiling windows but can be divided into several sections for extra privacy.
Breakfast & Restaurants
Main Restaurant Ruen Romsai
The Breakfast is served at an extensive buffet in the casual all day restaurant Ruen Romsai. You'll find many options from Greek delights to International cold & warm classics, local fruit and fresh pastries or you can order freshly prepared egg dishes. Even though the buffet has been amazing I have to give it one minus point for not including classics like French Toast or Eggs Benedict to the included menu. These items will be charged extra which is usually not common for luxury resorts. But beside that everything has been excellent!
Botrini's
Ettore Botrini's is a Michelin-starred chef which creates dishes which are inspired by local ingredients but with a modern twist! We ordered a set menu at Botrini's which was not only very delicious but also surprising. I highly recommend it for a special and unforgettable evening – but prepare yourself to eat a lot of food! All together we got eight courses including the Amuse Bouche. P.S. Ask for their homemade Sangria – it is very refreshing and the perfect summer drink!
Koh
My favorite restaurant at the Angsana Korfu is the Koh which serves different Asian fusion specialties in a very authentic way. Our favorite: The Wagyu beef with truffled mashed potatoes! The quality of the meat and the taste of the whole dish is simply amazing just as their sushi!
Sofrito
Of course you can't miss the delicious Greek cuisine when you're coming to Greece! The signature restaurant of the Angsana Corfu called Sofrito is the right place for it. The Greek chef knows exactly how to prepare Corfiot dishes in a traditional way but also cooks own variations with a special twist. Paired with local wines you will instantly arrive in Greek heaven!
RÉSUMÉ
No matter if you're traveling as a family, couple or friends – the Angsana Corfu is a wonderful resort for everyone with a huge gym for fitness lovers, fine dining for food lovers and an incredible pool & beach for sunshine lovers. It guarantees a relaxing vacation with many great memories and combines your visit in Corfu with an extra level of wellness and luxury!
We had a sponsored stay at the Angsana Corfu.