I get questions about the best Cappadocia photo spots all the time – in the travel guide I'll share all my favorite ones with you and give you useful information and insider tips for your own trip!
The fairytale landscapes of Cappadocia have been on my bucket list for such a long time – the unique rock formations, which are the result of a volcanic eruption several thousand years ago, are simply breathtaking. After our first visit in 2019 we fell so much in love with this place that we revisited Cappadocia again this year!
In this Cappadocia Travel Guide you find the best places to visit and the best instagrammable photo locations in Cappadocia alongside with useful information.
THE ARRIVAL AND HOW TO GET AROUND
In April we finally took our flight from Frankfurt to Istanbul from where we took another flight to Kayseri – the closest airport to Göreme.
We arrived in the late afternoon and drove another 45 mins to the hotel with our rental car.
Renting a car is one thing I can highly recommend during a trip to Cappadocia – you will be way more flexible with it and don't have to participate at any tours with a ton of other people. Most of the important spots are only some minutes away from Göreme. While booking the car online we made sure to get a Jeep cause some roads are only accessible for off road vehicles.
How many days are ideal for Cappadocia?
In my opinion three to four days are enough to see it all. The area is not huge and you reach all spots in several minutes or maximum 30 mins for the underground city Kaymakli. Even though we are the kind of travelers which spend a lot of time taking pictures everywhere we go, we still had time to relax. We split our time in Cappadocia and stay two nights in Göreme and another two in Uçhisar.
WHICH IS THE BEST PLACE TO WATCH THE BALLOONS OVER GÖREME?
This year we stayed at the Koza Cave Hotel and we absolutely fell in love with this beautiful family owned hotel. It has the highest rooftop in Göreme which means that you get the best overlook for photos in the morning. Other than the surrounding hotels, Koza only has ten rooms in total which means that the terrace will never be crowded to shoot and you can really enjoy the peaceful sunrise atmosphere.
You get another good rooftop view from the Sultan Cave Suites. They even prepare a little table with a fake "breakfast" to shoot. But since it's a bigger hotel you won't be alone. There will probably be around 10-20 other tourists which all wait to shoot. But since the place is only accessible for hotel guests it's not extremely crowded.
The Museum Hotel is located on a hill outside of Göreme and offers an incredible view over the whole valley – Straight from a heated pool!
If you want to take close up photos from the balloons you have to go the the launching zone. The balloons always start before sunrise so make sure to arrive very early to reserve a good spot. If the area gets to full the police will even block the street and only allow actual guests to drive through which booked a balloon ride – another reason to come super early! The balloons start from different areas each day but they are all very close together. The best shooting locations are either Rose Valley or Pasabag Valley.
Are the hot air balloons flying everyday?
The answer is NO! During our trip we've seen the Balloons only ONE morning – even so we had several clear sunrises. They only get up in the air when it's clear and not windy. Of course the chance to see them is higher if you travel in spring or summer – but even when we've been there in the middle of April we got only lucky this one morning. We met some girls which stayed 3 days and haven't seen a single Balloon!
Is it worth booking a balloon ride?
100% YES! Joining a hot air balloon ride in Cappadocia is definitely a MUST DO and not overrated at all! Depending on the company you will be in a basket with 16 or 20 guests in total. This may sound like a lot but the basket is huge an divided in four separate compartments for 4-5 people. We decided to fly with Turquaz Balloons since they have the best reputation in Göreme and only take up to 16 guests in one balloon which means that you have a guaranteed space at the outside of the basket with the best view. Seeing the surreal landscape from above with hundreds of other balloons around us while the sun is slowly rising is definitely one of my favorite memories from Cappadocia! It was all so worth the 4.30 am wake up call!
EXPLORING CAPPADOCIA
To explore all the unique valleys and places in Cappadocia you either have to book a tour or have your own rental car – which I already mentioned is the better option.
The tours usually start around 10 am so all the famous spots get really crowded during the noon till the early afternoon – around 3pm it starts to get quiet.
The valleys of Cappadocia
The reason why Cappadocia got so famous and what let it stand out are not just the rising balloons in the morning but the fact that the area was formed by volcanic eruptions many thousand years ago. Throughout the years the wind and rain has formed the soft rocks into bizarre formations which you can't find anywhere else!
These valleys are definitely worth a visit of you're exploring Cappadocia:
Imagination Valley / Devrent Valley
My favorite one of them is called Imagination Valley (Devrent Valley) and as soon as you arrive, you will instantly understand where this place got its name from!
The valley got its name since many of the rocks look like animals or other figures if you use a little fantasy 🙂 You can walk and climb your way through the valley to enjoy impressive views over the whole area. But be careful! The material of the stones is quite soft and the loose rocks and sand make the ground a bit slippery. Thats why wearing sneakers instead of slippers is highly recommended!
It's one of the spots where tour busses stop as well, but the groups usually just make a quick stop for a photo. If you walk a little further into the valley to explore the bizarre rock formations you will very soon find yourself alone without any tourists!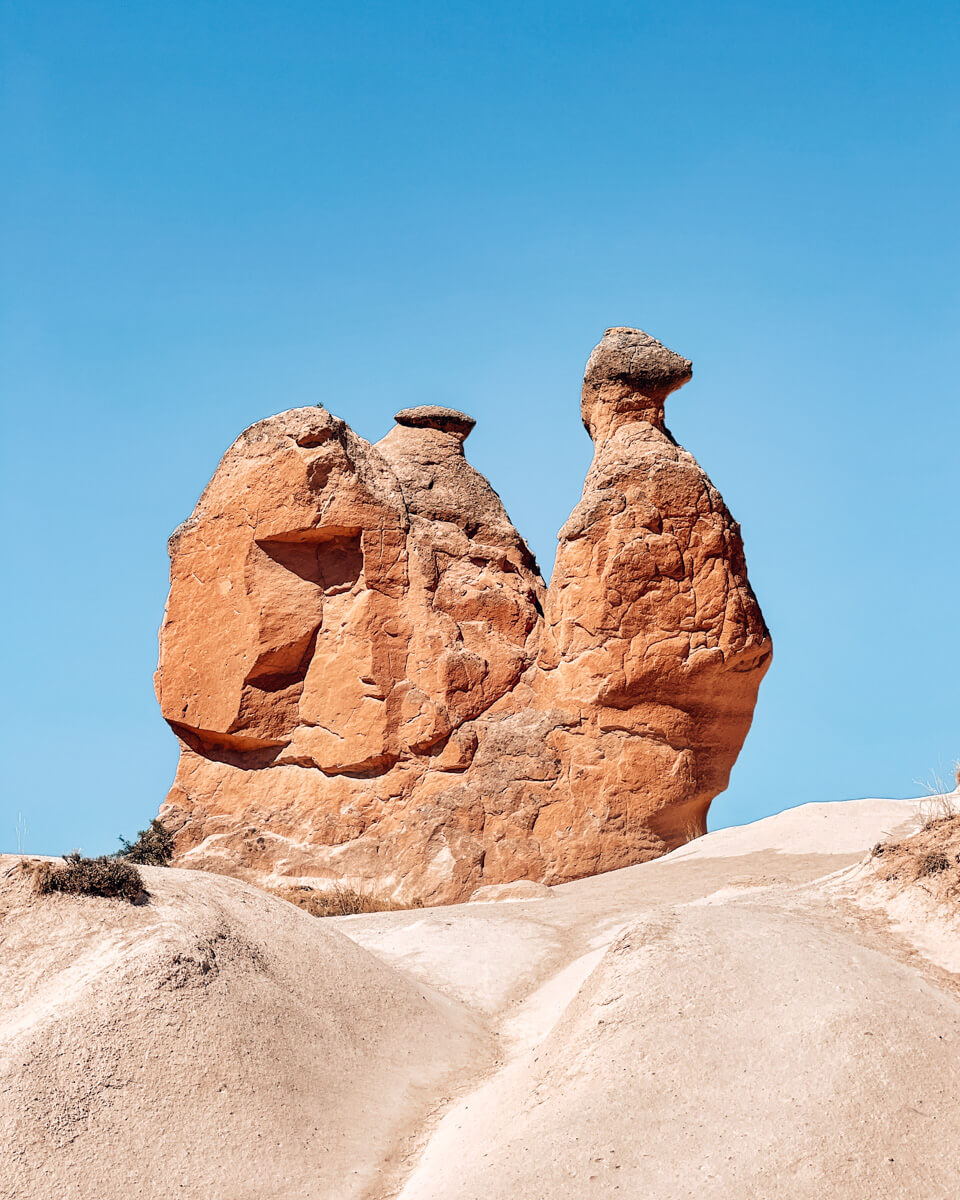 Monks Valley / Paşabağ Valley
One of the most famous and most visited places in Cappadocia is called Paşabağ Valley. The reason for that is that are the unique Fairy Chimney rocks which used to be a seclusion space for Monks. Beside that you can find one of the most famous photo locations of Cappadocia in Paşabağ valley: The Chapel of St. Simeon. Built into one of the Fairy Chimneys with three heads, its shape is absolutely unique and famous among photographers. But due to the many visitors its not easy to capture THE famous shot! You either have to come very early for the opening hour or shortly before the closing and be very patient (or just lucky).
Paşabağ used to be free of charge like the other valley during our first visit in 2019 but starting from 2021 they fenced the area and built a huge cashier building at the front where courts now have to pay a fee of 20 TL (2 EUR).
The opening hours are 8am – 7 pm from April 1st until October 1st & 8am – 5pm from October1st until April1st.
Love Valley
Visit Love Valley by car to see the most unique rock formations in Cappadocia! As soon as you see the bizarre rock formations for the first time, it will be easy for you to guess where this valley got its name from. The locals call the rock formations mushrooms – but let's be honest they all look like huge male body parts 😀
During a volcanos eruption, which created the whole area of Cappadocia several thousand years ago, ash fall down and covered the whole area. Due to the impact of wind ans water over thousands of years these special structures were born!
Reaching Love Valley by car
The official spot is a lookout point from where you have the best view over the valley. If you want to walk through the valley itself you have to walk down around 30 minutes per direction OR if you rented a 4-while drive like a Jeep or similar, you can reach it by car! Drive down the street from the viewpoint and take a right turn. There you will see the street leading to Love Valley and a sign which says "No Vehicles beyond this point". The sign is meant for any no 4-wheel drives cause they might get stuck but we didn't had a problem problem at all while driving here!
Arriving at the little parking lot in the valley you will barely see any other tourists. Most of them don't want to walk all the way down or don't know about the little off road path.
The Red Valley
For a relaxing evening you definitely have to visit Red Valley to watch the sunset. It's a famous spot during the evening cause the setting sun turns the soft red formations into a sea of fire. But nonetheless its worth a visit! The area is huge so you can easily find a nice space to sit and enjoy the atmosphere. You can either enjoy a tea in one of the little restaurants close to the parking lot or walk a little further to find the perfect spot for a picture and to drink a glass of wine you brought with you!
Towns in Cappadocia that are worth a visit:
Göreme
The most known town in Cappadocia where most of the beautiful Cave Hotels are located and where the balloons start to rise in the morning is Göreme. In case you decide to stay somewhere else I still recommend to visit the:
Göreme Open Air Museum
The most famous sight in Göreme is the Open Air Museum. It is an area with several chapels and churches but also living spaces and storages which got carved into the rocks by the first Christian settlers which arrived in the 2nd-3rd century AD. Many colorful paintings inside the rock chapels are incredibly good preserved! If you want to learn and see more about the history of Cappadocia and how the people used to live here, the Göreme Open Air Museum is definitely worth a visit!
The entry is 100 TL (10 EUR) per person and free for children under 8 years.
secret photo spot:
Right across the parking lot of the Open Air Museum you can spot a rock which looks like a huge window. It makes a beautiful natural frame for a picture with the markable rock formations in the background.
The best restaurants in Göreme:
The Turkish cuisine is rich and delicious. They have a lot of meat options like Kebab (Chicken, Lamb or Beef) or Moussaka (Baked Aubergine with grounded beef and tomato sauce). But there are also many vegetarian options with aubergine, chick peas and other vegetables.
A famous dish, which is typical for this region, is pottery kebab. For this they put meat and vegetables in a pottery pot and put it in the fire for at least four hours. It gets cooked in its own juice until the ingredients are very tender and will be served with rice or bread.
We found a very nice Restaurant in Göreme where they serve this meal in an authentic way called inci cave. This small and family owned restaurant has been our favorite dinner spot in Göreme. I loved the Aubergine Paste, Köfte (some kind of meat balls) or the lemon mustard marinated chicken plus the vegetarian options. The food was so good that we ate here two nights 🙂
But we had the best Turkish Ravioli (called Manti) at the Turkish Ravioli House and it's a MUST to try them! They are stuffed with beef and onions and served with tomato sauce, yoghurt and melted butter on top – soooo delicious!
Uçhisar

The village Uçhisar is only a 5 minutes drive away from Göreme. There you will not only find many lovely restaurants and hotels like the legendary Museum Hotel but also Uçhisar castle, which is the highest point in Cappadocia and an impressive landmark. It offers an amazing view over the valleys and Göreme which is especially dreamy during sunset.
The entry is only 20 TL (2 EUR) and you can walk up the stairs of the castle. It's no manmade building – like all structures in the area its a natural rock. People back in the days carved caves and steps into the soft stone to live here or for storage.
Kaymakli
From Göreme you can drive around 25 mins South to Kaymakli to visit the underground caves. There are several of these underground tunnel systems in the region but the one in Kaymakli is the largest! It's a labyrinth of several caves which are connected via small tunnels and steps which lead into different levels. The tunnel system is so huge that a whole village which sheep could live here. There are living rooms, wineries, chapels, a kitchen and everything people needed for their daily life while being safe from enemies.
Avanos

The main town in the area is called Avanos. It is a nice place for a relaxing stop for lunch or in the afternoon after exploring the many valleys! Park your car directly in the city center and stroll through the little old town, try some local wine or stroll along the river where you will find little food stalls with ice cream or a Turkish Döner for 10TL (1 EUR)!
The only place which disappointed us: Cappadocia Salt Lake
During our first visit in Turkey we got a tip to visit the Salt Lake of Cappadocia which we heard looks like a huge mirror reflecting the sky. Especially the sunset shots we found on our web search looked amazing.
So we drove two hours south to reach the lake only to realize that it wasn't as beautiful as on the pics we saw at all! This may be because of the grey and cloudy weather we had this day and also because of the many tourist busses which stopped here. We literally stayed for maybe 5 or 10 mins and left again.
Expectations… (source: havesomecolor.com)
Cappadocia has been magical
I just can't get enough of Cappadocia. After visiting this fairytale place two times already I can easily understand why it's on the bucket list of so many people: It is absolutely living up to its hype! Cappadocia is the ideal destination for a short trip and combines adventures with romantic vibes and good food.
I hope my Cappadocia Travel Guide helped you to find some great spots for your own trip! If you would like to see more impressions head over to my Instagram Account @voyagefox_ and check out my Story Highlight "Turkey II" 🙂
You may also like to read: