Endless white sandy beaches, surrounded by palm trees and black granite rocks with turquoise waters. This is what most people haven mind when they think about the beaches in the Seychelles. But not all of them are like this, they are all unique in their own way. In this post I'll show you my personal best beaches in the Seychelles and what you should keep in mind before visiting each of them:
Before I'll start I want to point out, that in my opinion it is super important to rent a car when you're planning to explore Mahé and Praslin. While there are public buses, not all stops are close to the most beautiful beaches and often you have to plan an extra walking time of 30-50 min per direction to reach them. Additionally it is often strenuous to walk in the Seychelles due to the heat and the fact that many roads change between going up and down due to the mountains and are steep. So renting a car will cost you a bit of extra money but it will save you tons of time during your vacation and make your experience way more relaxing.
On La Digue rental cars are not allowed but therefore you'll find countless bicycle renting points! 
Mahé
Since Mahé is the biggest island on the Seychelles with many countless beaches it makes it hard to visit them all. During our six days on the islands we got to see quite a few of them and these have been my favorites.
Cap Ternay
In the very Northern Part of Mahé you'll find the small bay Cap Ternay with calm and warm water, which you can walk in for several minutes while still being able to stand. The water at Cap Ternay is emerald green and the beach just a small sand stripe (depending on the tide). Anyways you still have a few meters of sand left under the trees which offer a lot of shadow to hide from the sun. Surrounded by a lush vegetation, which grows close to the water and with the surrounding mountains you'll feel like stepping in Jurassic Park!
Accessibility: Easy with a rental car. A small road leads almost to the beach and you'll only have to walk five minutes.
Family Friendly: 7/10 – no waves, calm and flat water, but not space to play in the sand
Possibility to buy drinks / snacks: No
Popularity: Low, we were almost alone beside very few people which were mostly snorkelers & divers
Snorkeling: Great, but if you start directly from the beach you have to swim quite a bit to the reef. However we noticed many diving and snorkeling trips staring from Cap Ternay with boats
Sunset Beach
The Beaches in along the West Coast of Mahé are ideal to watch the sunset in the evening. While the most popular one 'Beau Vallon Beach' is often full of people you'll enjoy a more calm sunset at a beach with very fitting name: sunset beach.
Accessibility: Easy! Park your car on the road side and just walk a few steps to the beach
Family Friendly: Yes! It is a small sandy beach with often medium waves
Possibility to buy drinks / snacks: No
Popularity: Low-Medium
Police Bay
This is one of my favorite beaches we visited on Mahé. You will have to drive some minutes off road and then walk another 10 minutes (or you do a 25-30 mins walk if you prefer to park your car at the end of the regular street) – but it's so worth it! Police Beach is a long beautiful sandy beach with granite rocks and palm trees at both ends of the bay and very few other visitors (you might even be lucky and have the place to yourself!). Shadow spots are very limited but thanks to the low amount of visitors it's easy to get one anyways! We walked all the way to left side of the bay and found ourselves a nice spot under the surrounding trees next to the granite rocks. During the two hours we've been there we only spotted a handful of other visitors far away from us!
Accessibility: Medium. Off Road Driving and walking or 25-35 mins walking distance when parking at the street
Family Friendly: 5/10, huge sandy beach but mostly strong waves and current, which are too strong for swimming
Possibility to buy drinks / snacks: No
Popularity: Low
Anse Baleine
Right in front of our first hotel the "Paradise Chalets" at the East Coast we had a lovely small beach which is ideal to watch the sunrise in the morning. Depending on the tide, Anse Baleine can either be quite big during low tide or almost not existing during high tide. The many palm trees which are often growing horizontal over the water, make a lovely photo opportunity.
Accessibility: Easy – Anse Baleine beach is located right next to the street
Family Friendly: Medium – This beach is ideal to take photos or to relax but not really kid friendly to play in the sand or water.
Possibility to buy drinks / snacks: Yes, there is a laid-back restaurant located right at the beach where you can sit with your feet in the sand.
Snorkeling: We didn't snorkel ourselves here but oft saw other people doing it from our hotel

 

Popularity: Low – we barely saw anyone at the beach during our entire stay at the hotel behind it.
Petite Anse – Four Seasons Beach
By Seychellois law all beaches have to be accessible to the public. This means that you can also visit beaches, which are surrounded by a resort. The Petite Anse which is the main beach of the Four Seasons Resort Seychelles is one of them and definitely worth a visit. Located on the West Coast of Mahé, Petite Anse is one of the best beaches to watch the sunset.
Accessibility: Medium. Park your car in front of the Four Seasons (parking lot is available) and register yourself at the hotel gate. From there you'll have to walk quite a bit downhill to reach the beach. The area of the resort is quite huge and located on the surrounding mountains of the beach, which means that it can get quite steep. So safe some energy and water for the way back up to your car.
Family Friendly: Yes! Petite Anse is a huge sandy beach with small to medium sized waves.
Possibility to buy drinks / snacks: Only for hotel guests
Popularity: Medium – High. You'll find mainly hotel guests at the beach which have their own area with sun beds. But differently from what you would expect from the name Petite Anse, the beach is long and the public beach offers a lot of space as well. We've been here during sunset and it was quite empty.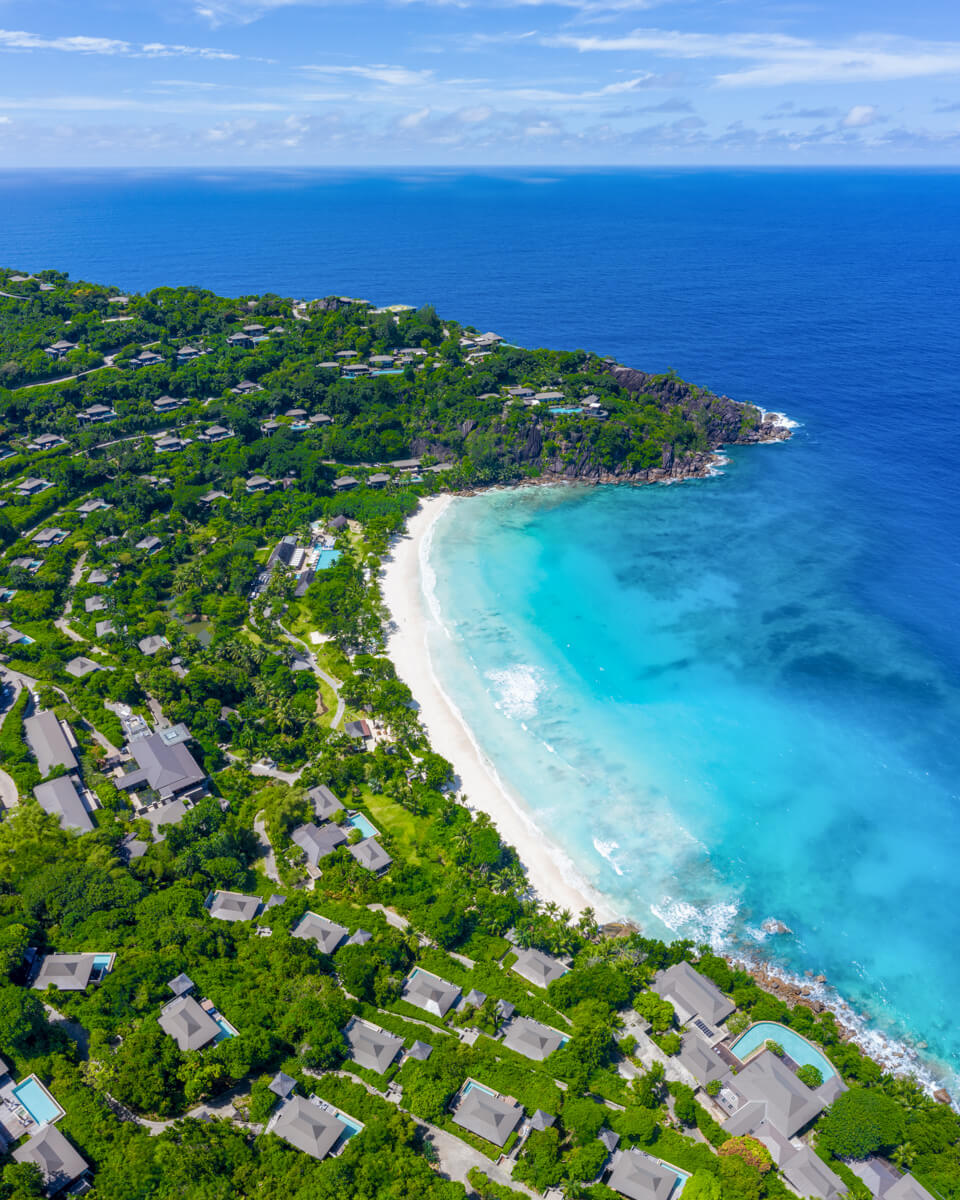 Anse Intendance
The last beach we visited on Mahé turned out to be our favorite one on the island! We came to Anse Intendance to watch the sunset but it's also a great beach to relax during the day. The beach is just perfect and the water blue with the ideal size of small waves to swim in the water – even for kids. It is definitely not a "secret beach" but thanks to its size also not crowded: You'll easily find a nice spot for yourself without sitting right next to someone else. The further you walk from the entrance to the right side of the beach, the less people you'll meet.
Accessibility: Easy! You can park your car just a few steps away from the beach.
Family Friendly: 10/10!
Possibility to buy drinks / snacks: Yes, Fruit stall and drinks
Popularity: Relatively High, but thanks to it's size it's not crowded
Praslin
If you plan your visit in the Seychelles and want to see the most beautiful beaches of this island paradise, then Praslin should definitely be on your list! There are actually two beaches battling to be the Number one of the most beautiful beaches on Praslin – and even in the Seychelles:
Anse Georgette
My absolute favorite beach in the Seychelles, and even one of the most beautiful beaches in the world I've ever seen is Anse Georgette. It looks exactly like you would imagine a beach in the Seychelles: soft sand surrounded by granite boulder rocks on both ends of the beach, a lush greenery and of course blue water with soft waves. It is the perfect spot on the island to watch the sunset so make sure to come in the afternoon and stay until the sun has been going down.
Important: Anse Georgette is surrounded by the resort Constance Ephelia and the daily access is limited. That's why you have to register before your visit. Your hotel will do that for you.
Accessibility: Medium. Park your car in front of the resort gate of the Constance Ephelia, from where you'll have to walk through along their huge golf course for around 25-30 minutes.
Family Friendly: Yes! It is a lovely beach for children to play in the sand plus the access to the water is easy and sandy without any sharp rocks.
Possibility to buy drinks / snacks: Yes, you will find a little stall to buy cocktails and drinks. But if you're planning to stay a bit longer I would recommend to pack your own water and snacks.
Popularity: High! Everyone wants to see the most beautiful beach of the Seychelles 😉 But anyways I didn't found Anse Georgette crowded during our visit.
Anse Lazio
As already mentioned above there is one beach which is competing with Anse Georgette about being the most beautiful beach on Praslin and this is Anse Lazio. For me it is clearly on the second position but some people prefer this one. So definitely visit both and see which one is your personal favorite.
Compared to Anse Georgette, Anse Lazio is a lot bigger and super easy to access. You can park your rental car just a few steps away from the beach. Due to this fact, Anse Lazio is also has a lot more visitors but thanks to the size you'll most likely still find a nice spot for yourself.
But in my opine there is one big plus point which Anse Lazio has compared to Anse Georgette and this is the access to Lovers Bay – but read more about this below.
Accessibility: Super easy
Family Friendly: Yes!
Possibility to buy drinks / snacks: Yes, you'll find a fruit and coconut stand right at the beach and a souvenir / snack shop just behind it.
Popularity: high
Snorkeling: Good! You can snorkel along the rocks in the water on both ends of the beach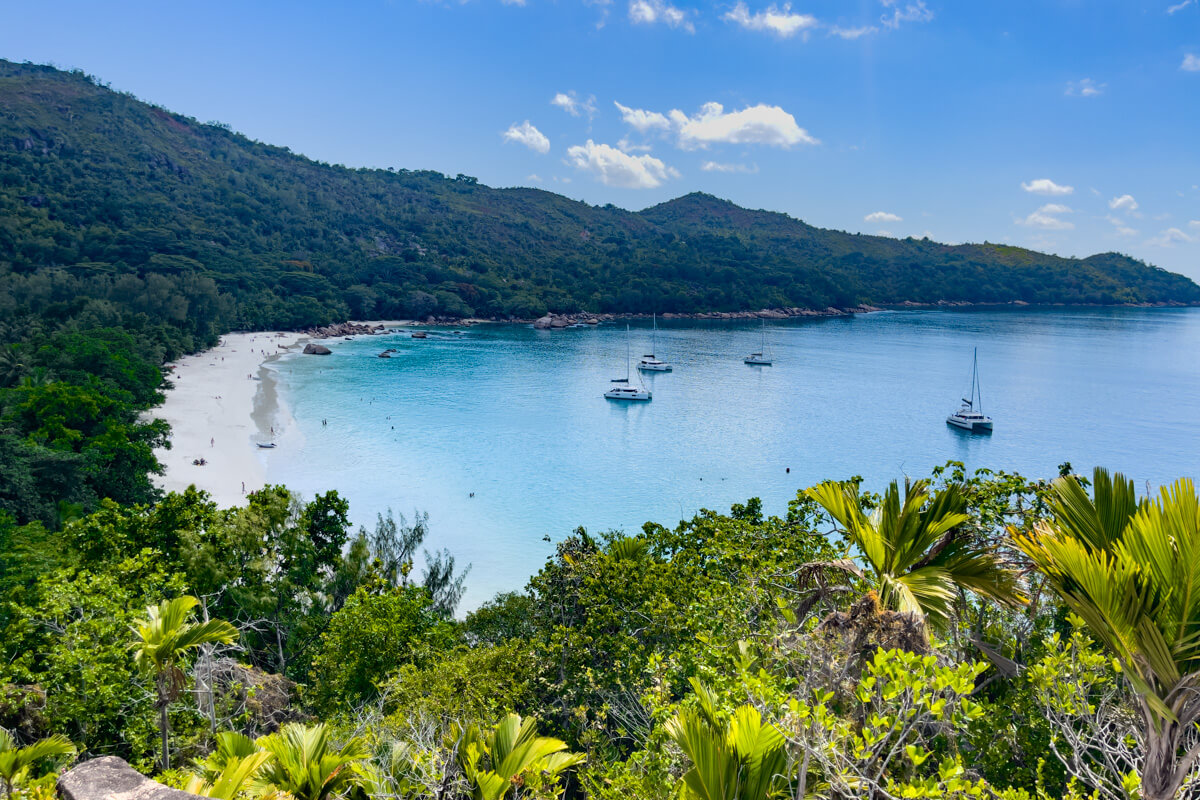 Petite Anse Lazio / Lovers Bay
If you're in the mood for a little adventure after relaxing at Anse Lazio you should check out the Petite Anse Lazio, also known as Lovers Bay, nearby. It is a very small but picturesque bay which will let you feel like you're on a lonely island and makes a beautiful photo opportunity. Additionally you will most likely have this bay all to yourself, just like us, since it is not easy to access at all:
At the very end of Anse Lazio, at the right side, you have a for the Seychelles typical collection of boulder granite rocks which you will have to climb up and down again to reach Lovery Bay. Take some steps behind the trees where you will see a tiny path leading up the rocks. We did this hike in flip flops but to be on the safe side I would recommend you to wear sneakers – especially when the rocks are wet and slippery from the rain. Then simply follow the path above the rocks, enjoy the views on the way and after around 10 minutes the way will lead you down to the beach.
Depending on the tide the access to the water can be tricky since there are quite a few rocks and sea urges in the water.
Accessibility: Difficult, but the hike is absolutely doable if you're fit and not long.
Family Friendly: No
Possibility to buy drinks / snacks: No
Popularity: Low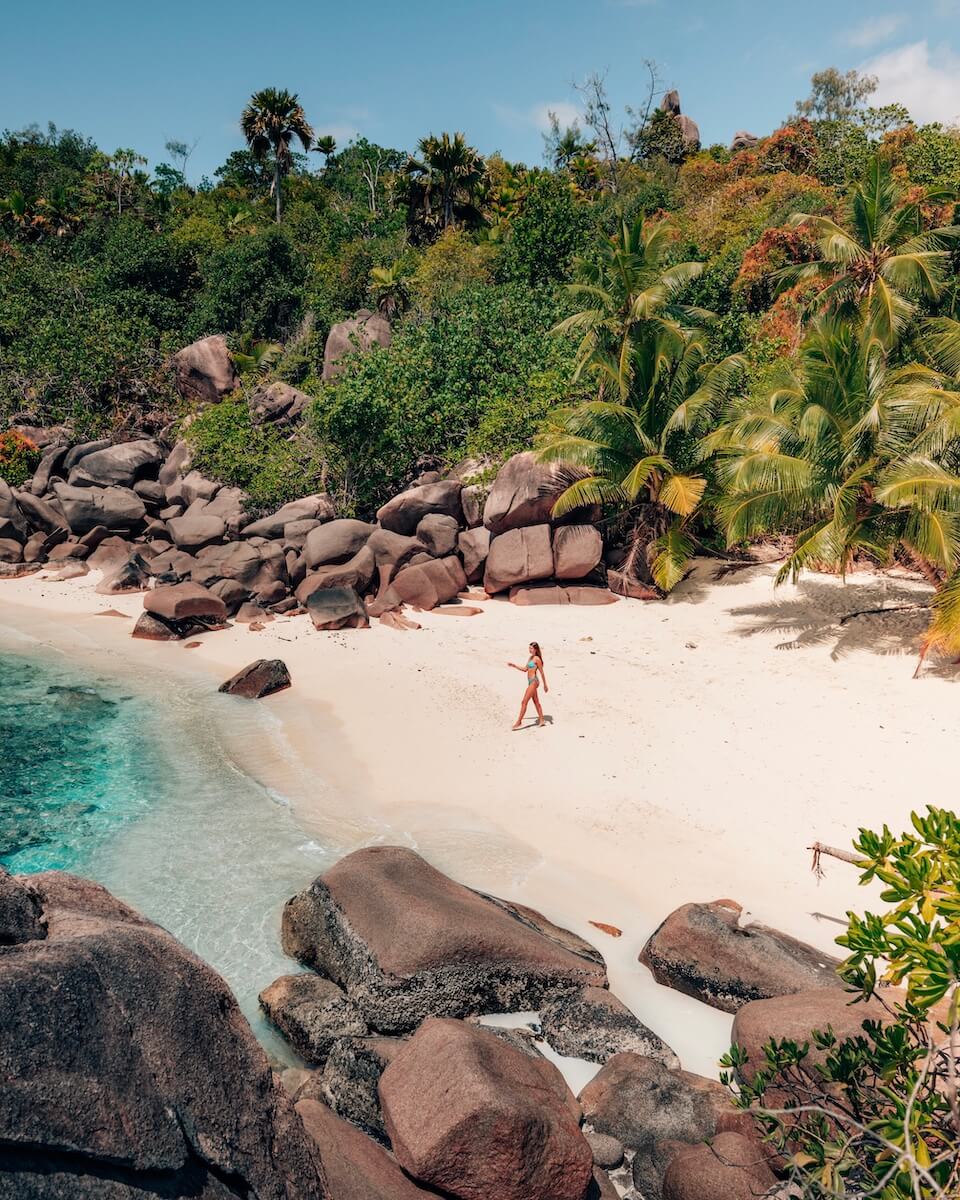 La Digue
La Digue is one of the smallest islands in the Seychelles and so tiny that there are not even cars on the island – just bicycles. Nevertheless La Digue offers some of the most beautiful beaches in the Seychelles which you can't miss:
Grand Anse
One of the most famous beaches in the Seychelles is Grand Anse with its endless appearing sand stripe, picturesque granite rocks and incredibly blue water. The waves at Grand Anse are usually a bit higher but it makes so much fun to play in them when you're a good swimmer and go too deep in the water. But the current might change any time so watch out for warning signs.
Unfortunately Grand Anse is not surrounded by many trees which means that you can barely find any places in the shadow. We saw some shelters constructed out of palm leaves from the locals which I'm pretty sure you have to pay a small fee for to use them. But look out for some lonely granite rocks which are located on the beach – they are a great natural shelter from the sun.
Accessibility: 7/10. You can almost drive directly to the beach with your bicycle but the street has quite a few steep ups and downs which can be exhausting in the heat.
Family Friendly: It depends: Great for families with older kids which are good swimmers. But the strong waves plus the lack of shadow spots is not really ideal for young children.
Possibility to buy drinks / snacks: Yes, there is a little beach restaurant located where you'll park the bicycles.
Popularity: High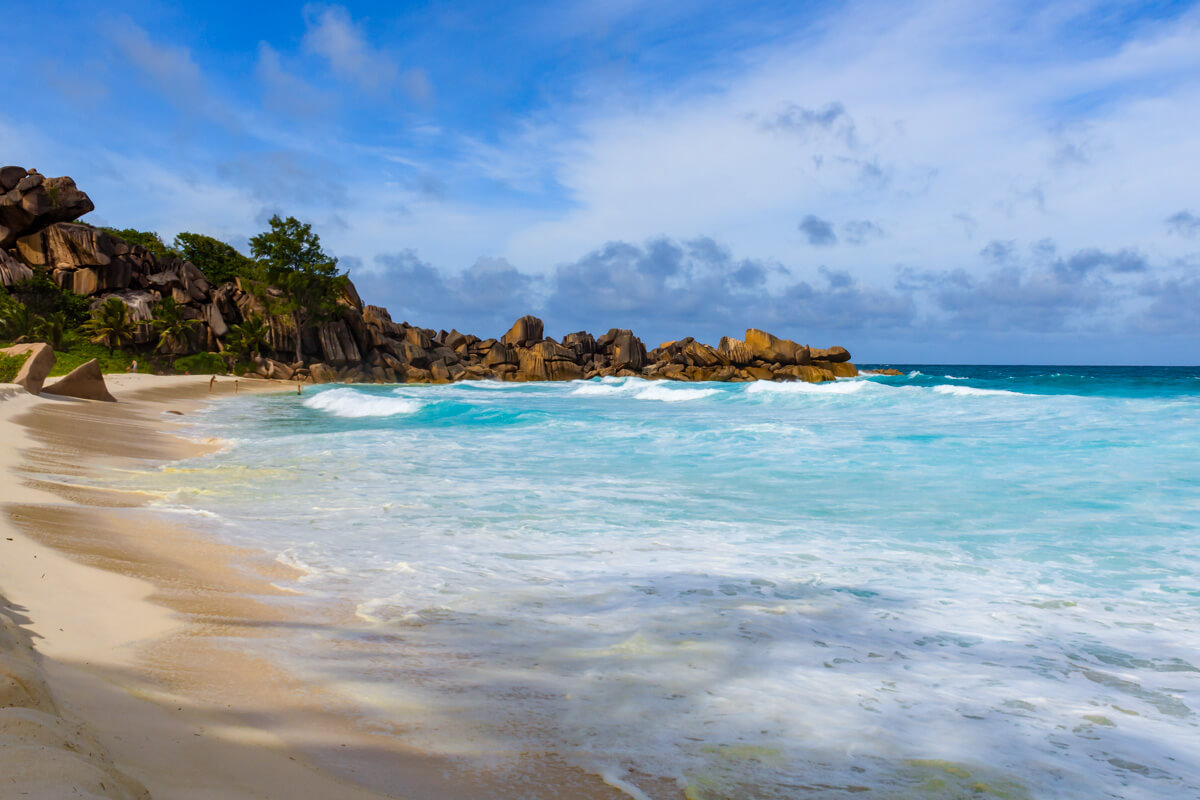 Petite Anse
If Grand Anse might be too packed or you simply want to see a less popular beach than you can follow the path which leads you from your bicycle to Grand Anse a bit further to climb over the Granite Rocks and reach Petite Anse. Even though the rocks are quite high, the hike itself is definitely doable and completely in the shadow. We even met older people on the way. Just make sure to pack enough water to stay hydrated and after around 20-30 minutes you will already be at the beach.
Accessibility: Moderate hike
Family Friendly: The beach itself is similar to Grand Anse, so again I would say it depends on the age of your children but the accessibility to Petite Anse is not as easy.
Possibility to buy drinks / snacks: Yes – you will find a shelter where locals sell coconuts, fruits, cocktails and soft drinks.
Popularity: Medium – Low
It is even possible to access the next beach, called Coconut Beach but for us it was not really worth it. I found some pictures from "Natural Pools" on Google which are located at Coconut Beach but they weren't that impressive in reality and definitely not worth the second hike in the heat – at least for us.
Anse Source d'Argent
We've probably all seen the famous drone shots of postcard like beaches in the Seychelles – and 90% of them are taken at a! It is THE famous beach in the Seychelles and extremely picturesque.
The beach is located in the State Park "L'union estate" so you have to pay an entrance fee of 115 SCR (around 8 EUR) per person but it is worth it!
When you arrive at the beach, it will most likely be quite packed. But what many don't know is that Source d'Argent consists of several beaches which are connected via a path so most tourists stop at the first one to take photos. But I would recommend you to follow the way behind the trees a bit further until you find a nice spot for yourself.
Accessibility: Easy! You can park your bicycle a few steps away from Anse d'Argent and the street which leads to the State Park is completely flat.
Family Friendly: Yes!
Possibility to buy drinks / snacks: Yes. There are several shelters to buy drinks and small snacks in the state park and at the beach itself.
Popularity: High!
Plan your stay in the Seychelles
You may also be interested in