It's probably THE most famous hotel in Tulum: The Azulik is known for it's boho chic  design and eco friendly concept. But what is it really like to stay in the most insta famous hotel in Tulum.. and probably whole Mexico? This is my honest review about our stay at the Azulik Tulum OR "Why you shouldn't stay at the Azulik in Tulum"….
The first impression
After visiting the Azulik hotel already two years ago, when we just came for dinner in their famous restaurant Kin Toh and got treated like "second-class guests", we thought that the experience would probably be a lot better if you're an actual guest that stays at the hotel. So we gave the Instagram famous hotel another chance and regularly booked a room. But oh.. How little did we know.
The Check In process went smoothly: We left our car with the valet service & we got escorted to the room. We walked over bamboo steps and crossed suspension bridges. I was so excited to finally see the whole hotel with my own eyes and of course to see the rooms!
The rooms – Back to nature… or not?
We stayed in a Jungle villa which reminded me of a tree house with a cool eco chic design – just like I expected it. But when we entered the room I was surprised that it was very hot & humid inside. I was looking for the button to turn on the AC but the guy who escorted us to our room was like "oh no.. we don't have one.. it doesn't fit our eco philosophy" – "Okay.." I thought "…If that's their concept than this makes sense". But due to the missing AC the mattress and pillows in the bed are always in a very humid surrounding and honestly I felt like our bed was a bit stinky… Later I also realized that we just had ONE power outlet in the whole room and NO electric lights. Instead you find candles in your room. They are nice for a romantic evening  but don't light up the room after sunset at all, so we used our phone flashlight instead…
Additionally you won't find a bathroom with a shower. Instead they put a small tub around the corner of the bedroom with a coconut shell to put the water over your body by hand. Very much back to nature! But what didn't fit the whole eco concept at all was that the bottled water for guests have plastic caps and that all amenities like shower gel and shampoo come in small single use plastic bottles – which you barely find in any four or five star hotels anymore these days. Especially not in the eco friendly ones! I mean – you don't have electric lights cause it's "too bad for the environment" but you exchange these small plastic bottles DAILY?
The terrace was my favorite part of the villa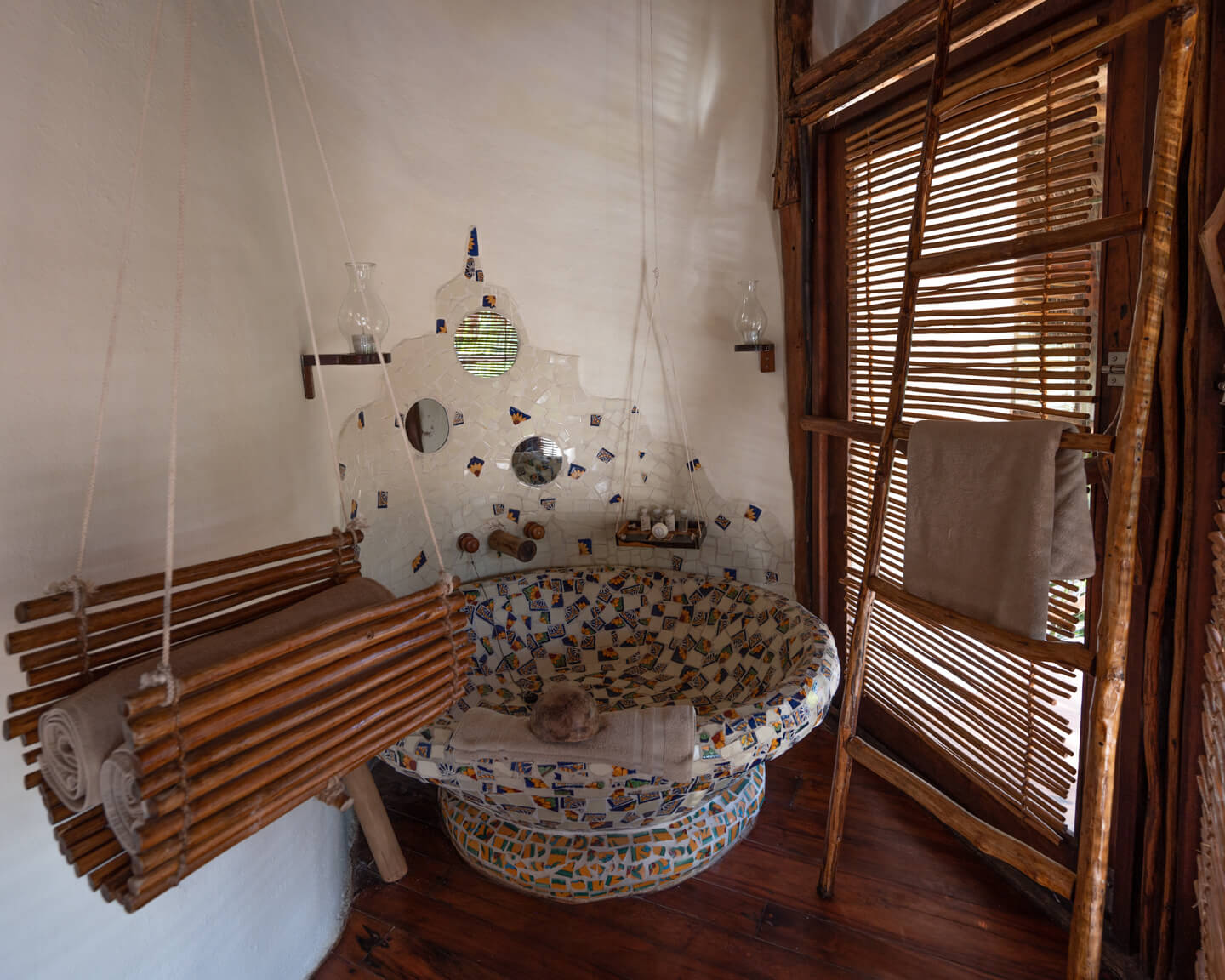 The nonexistent Guest Service
Mexican people in general are extremely kind and welcoming but the staff at the Azulik in Tulum has been mostly arrogant and unfriendly. It's like Guest Service doesn't really exist at this hotel.
The first time we noticed that was when we were taking pictures of the hotel area for our blog. Seeing a "professional camera" (Which means at the Azulik: Everything which is no Phone) puts the staff into panic mood. The security guard who spotted us told us to follow him to the reception just as we were criminals. The receptionist told us to show him our camera in a very rude way and said that it's forbidden to take any "professional photos" in the hotel. "Our website clearly says that cameras are forbidden – just as the sign right at the entry! If you wanna use your camera you have to pay a daily fee of 350,- USD!" The sign he was talking about was a tiny wooden symbol somewhere in the reception which you can barely   see and WHO checks the hotel website for special rules before checking in?
The "different" sunset experience
What makes the Azulik in Tulum so photogenic are the nests on top of the roofs of the restaurant which offer an incredible view over the resort and the ocean – especially during sunset. Therefore all new arriving guests are welcomed to enjoy a sunset cocktail in one of these nests. I was so excited about it.. cause last time – as restaurant guests – we weren't allowed to enter them.
Arriving at the staircase which leads up to the roof a security guard escorted us to one of the nests which was already quite packed and at the very side of the resort – overlooking the construction side next to the hotel instead of offering a nice view. "Oh.. that's not where we wanna spend the sunset" we thought and walked to one of the other nests which was connected to ours via a suspension bridge. It was a way bigger one with a bar and the most amazing view over the resort. But as soon as we sat foot on the connecting bridge we heard: "Stop! You're not allowed to go! Only for VIP's" from the security guard. Totally baffled we went back and thought "hmm maybe it's a closed event or only for guests of the highest room categories" But I noticed another staff member selling tickets right under the nests and went to her to ask why we were not allowed to watch the sunset from this particular nest even though we are hotel guests. "Oh… this area is not for hotel guests…" she said "..it's for people which don't stay with us but buy a ticket for 50,- USD for one hour to experience our sunset cocktails" – "So I can't go there as a hotel guest who paid almost a thousand dollar per night?" – "No. You have to get a ticket as well"…..
How we imagined the Sunset Nest Experience…
vs. the reality of our view…
…and where you had to pay an extra fee to get in.
the last straw that broke the camel's back
After this unpleasant experience we decided to eat dinner outside of the hotel. The Azulik has a valet service for the cars of all guests since there are no parking lots right in front of the hotel. We experience this kind of service in many other hotels before and it's never been a problem: You just call the reception around 10 Minutes prior you need your car and they bring it to the entrance for you. So of course we called the reception to get our car. A lady answered the phone and told me that she would connect me with the guest service instead. Okay. Two rings and an automated voice told me "We are currently busy. Try again later." And hung up. But we really needed our car, so I tried to call again – the same happened. 5 mins later – again. So I tried to call the lady from the reception one more time but she didn't answer anymore – I just got the same automated voice that told me to try again later! And Remember… you're in a 5 star hotel – the most expensive one in Tulum – and no one answers the phone several times in a row? Usually we wouldn't freak out about it but after making all these unpleasant experiences it was just the last straw that broke the camel's back.
An Unwanted Wake Up Call
Tulum nights known for beach parties and often staying up until the early morning hours. So we were very much looking forward to sleep a bit longer the next morning after celebrating into our birthday the night before. But suddenly – 6 am – I was standing in my bed after hearing a loud horn blowing. Do yo remember the nest from the sunset experience? Oh… they have a sunrise yoga experience there too! People were chatting and they put on some music right above all the rooms in the resort. And let me tell you that wooden rooms aren't very well acoustically isolated.. I felt like these people have been standing right in front our room. After ONE HOUR and when the sun has been risen completely they blew into the horn several more times and this was probably when EVERYONE in the resort woke up.
I don't know if they have this sunrise event happening every day or just at certain days but I felt like it is so rude to wake up everyone in the resort to do something quiet and relaxing as yoga? Why don't you do it at the beach? Why do you need to play loud music? And why the hell do you have to blow into this god damn horn???
RÉSUMÉ – Is the Azulik Tulum worth the hype?
Hell NO! I've never experienced anything like this before!!! We were so lucky that we only stayed for one night and didn't waste our money to be treated unwanted and disrespectful any longer. The Azulik definitely has an eye catching design and is super photogenic. But what's the point if you don't allow guests to take pictures and if you don't give your own guests access to the best spots in the hotel?
I know this isn't my usual hotel review and normally I'm not that kind of person which complains about everything but PLEASE don't waste your money at the Azulik Tulum and please spread this message to make more people aware of it! After sharing our experience in my stories on Instagram I got sooo many messages of people which made similar and even worse experiences at the Azulik which totally ruined their stay in Tulum 🙁
There are so many other amazing hotels in the area which have a REAL eco friendly concept, nice boho designs and which truly care about the well-being of their guests: Like the NOMADE or the COCO Tulum which we absolutely loved!
You may also like to read: